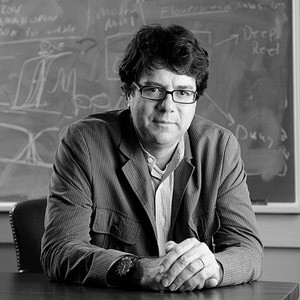 Director Emeritus and Fellow
The John B. Pierce Laboratory
Professor
Cellular & Molecular Physiology and Neuroscience
Yale School of Medicine
Research Associate, The American Museum of Natural History
Scientific Board of Directors, Mystic Aquarium and Center for Exploration
Laboratory:
Cellular Neurophysiology
E mail:
vpieribone@jbpierce.org
Telephone: (203) 562-9901,
EXT. 252
Education
BA, New York University, 1986
PhD, New York University, 1992
Biographical Sketch
Vincent Pieribone attended New York University College of Arts and Sciences where he received a baccalaureate degree in Biology and Chemistry in 1986. He then attended New York University's Graduate School of Arts and Sciences and received his doctorate in Philosophy in 1992 in neuroanatomy and neurophysiology. From 1990 to 1992 he was a National Science Foundation and Fogarty International Fellow at the Nobel Institute of Neurophysiology at the Karolinska Institute in Stockholm Sweden. From Sweden Vincent did post-doctoral work at The Rockefeller University in New York from 1992 to 1995 and became an Assistant Professor there in 1995. Vincent joined the Pierce Laboratory in December 1997.
Recent Publications
Platisa, J., Ye, X., Ahrens, A. M., Liu, C., Chen, I. A., Davison, I. G., Tian, L., Pieribone, V. A., & Chen, J. L. (2023). High-Speed Low-Light in Vivo Two-Photon Voltage Imaging of Large Neuronal Populations. Nature Methods, 20(7). https://doi.org/10.1038/s41592-023-01820-3
Liu, C., Platisa, J., Ye, X., Ahrens, A. M., Chen, I. A., Davison, I. G., Pieribone, V. A., Chen, J. L., & Tian, L. (2023). Two-Photon Voltage Imaging Denoising by Self-Supervised Learning. Neural Imaging and Sensing 2023,
Pollmann, E. H., Yin, H., Uguz, I., Dubey, A., Wingel, K. E., Choi, J. S., Moazeni, S., Gilhotra, Y., Pavlovsky, V. A., Banees, A., Boominathan, V., Robinson, J., Veeraraghavan, A., Pieribone, V. A., Pesaran, B., & Shepard, K. L. (2023). Subdural Cmos Optical Probe (Scope) for Bidirectional Neural Interfacing. bioRxiv, 4(02-16). https://doi.org/10.1101/2023.02.07.527500
Platisa, J., Zeng, H., Madisen, L., Cohen, L. B., Pieribone, V. A., & Storace, D. A. (2022). Voltage Imaging in the Olfactory Bulb Using Transgenic Mouse Lines Expressing the Genetically Encoded Voltage Indicator Arclight. Scientific Reports, 12(1). https://doi.org/10.1038/s41598-021-04482-3
Liu, C., Platisa, J., Ye, X., Ahrens, A. M., Chen, I. A., Davison, I. G., Pieribone, V. A., Chen, J. L., & Tian, L. (2022). Deepvid: A Self-Supervised Deep Learning Framework for Two-Photon Voltage Imaging Denoising. Biophotonics Congress: Biomedical Optics 2022 (Translational, Microscopy, OCT, OTS, BRAIN),
Kannan, M., Vasan, G., Haziza, S., Huang, C., Chrapkiewicz, R., Luo, J., Cardin, J. A., Schnitzer, M. J., & Pieribone, V. A. (2022). Dual-Polarity Voltage Imaging of the Concurrent Dynamics of Multiple Neuron Types. Science, 378(6619). https://doi.org/10.1126/science.abm8797
Schnitzer, M., Huang, C., Luo, J., Woo, S. J., Roitman, L., Li, J., Pieribone, V., Kannan, M., & Vasan, G. (2022). Dopamine Signals Integrate Innate and Learnt Valences to Regulate Memory Dynamics. Research Square. https://doi.org/10.21203/rs.3.rs-1915648/v1
Platisa, J., Ye, X., Ahrens, A. M., Liu, C., Chen, I. A., Davison, I. G., Tian, L., Pieribone, V. A., & Chen, J. L. (2021). High-Speed Low-Light in Vivo Two-Photon Voltage Imaging of Large Neuronal Populations. bioRxiv. https://doi.org/10.1101/2021.12.07.471668
Kannan, M., Vasan, G., Haziza, S., Huang, C., Chrapkiewicz, R., Luo, J., Cardin, J. A., Schnitzer, M. J., & Pieribone, V. A. (2021). Dual Polarity Voltage Imaging Reveals Subthreshold Dynamics and Concurrent Spiking Patterns of Multiple Neuron-Types. bioRxiv. https://doi.org/10.1101/2021.10.13.463730
Platisa, J., Zeng, H., Madisen, L., Cohen, L. B., Pieribone, V. A., & Storace, D. A. (2020). Voltage Imaging Using Transgenic Mouse Lines Expressing the Gevi Arclight in Two Olfactory Cell Types. bioRxiv. https://doi.org/10.1101/2020.08.26.268904
Platisa, J., Han, Z., & Pieribone, V. A. (2020). Different Categories of Fluorescent Proteins Result in Gevis with Similar Characteristics. bioRxiv. https://doi.org/10.1101/2020.05.06.081018
Tessler, M., Gaffney, J. P., Oliveira, A. G., Guarnaccia, A., Dobi, K. C., Gujarati, N. A., Galbraith, M., Mirza, J. D., Sparks, J. S., Pieribone, V. A., Wood, R. J., & Gruber, D. F. (2020). A Putative Chordate Luciferase from a Cosmopolitan Tunicate Indicates Convergent Bioluminescence Evolution across Phyla. Scientific Reports, 10(1). https://doi.org/10.1038/s41598-020-73446-w
Kannan, M., Vasan, G., & Pieribone, V. A. (2019). Optimizing Strategies for Developing Genetically Encoded Voltage Indicators. Frontiers in Cellular Neuroscience, 13. https://doi.org/10.3389/fncel.2019.00053
Gruber, D. F., Phillips, B. T., O'Brien, R., Boominathan, V., Veeraraghavan, A., Vasan, G., O'Brien, P., Pieribone, V. A., & Sparks, J. S. (2019). Bioluminescent Flashes Drive Nighttime Schooling Behavior and Synchronized Swimming Dynamics in Flashlight Fish. PLoS ONE, 14(8). https://doi.org/10.1371/journal.pone.0219852
Park, H. B., Lam, Y. C., Gaffney, J. P., Weaver, J. C., Krivoshik, S. R., Hamchand, R., Pieribone, V., Gruber, D. F., & Crawford, J. M. (2019). Bright Green Biofluorescence in Sharks Derives from Bromo-Kynurenine Metabolism. iScience, 19. https://doi.org/10.1016/j.isci.2019.07.019
Platisa, J., & Pieribone, V. A. (2018). Genetically Encoded Fluorescent Voltage Indicators: Are We There Yet? Current Opinion in Neurobiology, 50. https://doi.org/10.1016/j.conb.2018.02.006
Kannan, M., Vasan, G., Huang, C., Haziza, S., Li, J. Z., Inan, H., Schnitzer, M. J., & Pieribone, V. A. (2018). Fast, in Vivo Voltage Imaging Using a Red Fluorescent Indicator. Nature Methods, 15(12). https://doi.org/10.1038/s41592-018-0188-7
Tessler, M., Gaffney, J. P., Crawford, J. M., Trautman, E., Gujarati, N. A., Alatalo, P., Pieribone, V. A., & Gruber, D. F. (2018). Luciferin Production and Luciferase Transcription in the Bioluminescent Copepod Metridia Lucens. PeerJ, 6. https://doi.org/10.7717/peerj.5506
Phillips, B. T., Becker, K. P., Kurumaya, S., Galloway, K. C., Whittredge, G., Vogt, D. M., Teeple, C. B., Rosen, M. H., Pieribone, V. A., Gruber, D. F., & Wood, R. J. (2018). A Dexterous, Glove-Based Teleoperable Low-Power Soft Robotic Arm for Delicate Deep-Sea Biological Exploration. Scientific Reports, 8(1). https://doi.org/10.1038/s41598-018-33138-y
Platisa, J., Vasan, G., Yang, A., & Pieribone, V. A. (2017). Directed Evolution of Key Residues in Fluorescent Protein Inverses the Polarity of Voltage Sensitivity in the Genetically Encoded Indicator Arclight. ACS Chemical Neuroscience, 8(3). https://doi.org/10.1021/acschemneuro.6b00234
Mbachu, S. N., Pieribone, V. A., Bechtel, K. A., McCarthy, M. L., & Melnick, E. R. (2017). Optimizing Recruitment and Retention of Adolescents in Ed Research: Findings from Concussion Biomarker Pilot Study. The American Journal of Emergency Medicine, 36(5). https://doi.org/10.1016/j.ajem.2017.09.014
Abdelfattah, A. S., Farhi, S. L., Zhao, Y., Brinks, D., Zou, P., Ruangkittisakul, A., Platisa, J., Pieribone, V. A., Ballanyi, K., Cohen, A. E., & Campbell, R. E. (2016). A Bright and Fast Red Fluorescent Protein Voltage Indicator That Reports Neuronal Activity in Organotypic Brain Slices. The Journal of Neuroscience, 36(8). https://doi.org/10.1523/jneurosci.3484-15.2016
Michaelides, E. M., Kuang, H., & Pieribone, V. A. (2016). Dickkopf-Related Protein 3 as a Sensitive and Specific Marker for Cerebrospinal Fluid Leaks. Otology & Neurotology, 37(3). https://doi.org/10.1097/mao.0000000000000954
Gruber, D. F., Loew, E. R., Deheyn, D. D., Akkaynak, D., Gaffney, J. P., Smith, W. L., Davis, M. P., Stern, J. H., Pieribone, V. A., & Sparks, J. S. (2016). Biofluorescence in Catsharks (Scyliorhinidae): Fundamental Description and Relevance for Elasmobranch Visual Ecology. Scientific Reports, 6(1). https://doi.org/10.1038/srep24751
Phillips, B. T., Gruber, D. F., Vasan, G., Roman, C. N., Pieribone, V. A., & Sparks, J. S. (2016). Observations of in Situ Deep-Sea Marine Bioluminescence with a High-Speed, High-Resolution Scmos Camera. Deep Sea Research Part I: Oceanographic Research Papers, 111. https://doi.org/10.1016/j.dsr.2016.02.012
Phillips, B., Gruber, D., Vasan, G., Pieribone, V., Sparks, J., & Roman, C. (2016). First Evidence of Bioluminescence on a "Black Smoker" Hydrothermal Chimney. Oceanography, 29(2). https://doi.org/10.5670/oceanog.2016.27
Gruber, D. F., Gaffney, J. P., Mehr, S., DeSalle, R., Sparks, J. S., Platisa, J., & Pieribone, V. A. (2015). Adaptive Evolution of Eel Fluorescent Proteins from Fatty Acid Binding Proteins Produces Bright Fluorescence in the Marine Environment. PLoS ONE, 10(11). https://doi.org/10.1371/journal.pone.0140972
Mehr, S., Verdes, A., DeSalle, R., Sparks, J., Pieribone, V., & Gruber, D. F. (2015). Transcriptome Sequencing and Annotation of the Polychaete Hermodice Carunculata (Annelida, Amphinomidae). BMC Genomics, 16(1). https://doi.org/10.1186/s12864-015-1565-6
Abdelfattah, A. S., Platisa, J., Zhao, Y., Pieribone, V. A., & Campbell, R. E. (2014). Development of a Red Genetically-Encoded Voltage Indicator and Its Use with Channelrhodopsin for All-Optical Electrophysiology. Biophysical Journal, 106(2). https://doi.org/10.1016/j.bpj.2013.11.3482
Han, Z., Jin, L., Chen, F., Loturco, J. J., Cohen, L. B., Bondar, A., Lazar, J., & Pieribone, V. A. (2014). Mechanistic Studies of the Genetically Encoded Fluorescent Protein Voltage Probe Arclight. PLoS ONE, 9(11). https://doi.org/10.1371/journal.pone.0113873
Sparks, J. S., Schelly, R. C., Smith, W. L., Davis, M. P., Tchernov, D., Pieribone, V. A., & Gruber, D. F. (2014). The Covert World of Fish Biofluorescence: A Phylogenetically Widespread and Phenotypically Variable Phenomenon. PLoS ONE, 9(1). https://doi.org/10.1371/journal.pone.0083259
Klein, M., Afonso, B., Vonner, A. J., Hernandez-Nunez, L., Berck, M., Tabone, C. J., Kane, E. A., Pieribone, V. A., Nitabach, M. N., Cardona, A., Zlatic, M., Sprecher, S. G., Gershow, M., Garrity, P. A., & Samuel, A. D. T. (2014). Sensory Determinants of Behavioral Dynamics in Drosophila Thermotaxis. Proceedings of the National Academy of Sciences, 112(2). https://doi.org/10.1073/pnas.1416212112
Han, Z., Jin, L., Platisa, J., Cohen, L. B., Baker, B. J., & Pieribone, V. A. (2013). Fluorescent Protein Voltage Probes Derived from Arclight That Respond to Membrane Voltage Changes with Fast Kinetics. PLoS ONE, 8(11). https://doi.org/10.1371/journal.pone.0081295
Cao, G., Platisa, J., Pieribone, V. A., Raccuglia, D., Kunst, M., & Nitabach, M. N. (2013). Genetically Targeted Optical Electrophysiology in Intact Neural Circuits. Cell, 154(4). https://doi.org/10.1016/j.cell.2013.07.027
Storace, D. A., Sung, U., Platisa, J., Cohen, L. B., & Pieribone, V. A. (2013). In Vivo Imaging of Odor-Evoked Responses in the Olfactory Bulb Using Arclight, a Novel Fp Voltage Probe. Biophysical Journal, 104(2). https://doi.org/10.1016/j.bpj.2012.11.3751
Tang, W., Osman, A., Kim, D., Goldstein, B., Huang, C., Martini, B., Pieribone, V. A., & Culurciello, E. (2013). Continuous Time Level Crossing Sampling Adc for Bio-Potential Recording Systems. IEEE Transactions on Circuits and Systems I: Regular Papers, 60(6). https://doi.org/10.1109/tcsi.2012.2220464
Pooyaei Mehr, S. F., DeSalle, R., Kao, H.-T., Narechania, A., Han, Z., Tchernov, D., Pieribone, V., & Gruber, D. F. (2013). Transcriptome Deep-Sequencing and Clustering of Expressed Isoforms from Favia Corals. BMC Genomics, 14(1). https://doi.org/10.1186/1471-2164-14-546
Han, Z., Jin, L., Turavets, D., Cohen, L. B., Lazar, J., & Pieribone, V. A. (2013). Modification of Arclight, a Genetically-Encoded Voltage Sensitive Probe: A Study of Mechanism. Biophysical Journal, 104(2). https://doi.org/10.1016/j.bpj.2012.11.3752
Osman, A., Park, J. H., Dickensheets, D., Platisa, J., Culurciello, E., & Pieribone, V. A. (2012). Design Constraints for Mobile, High-Speed Fluorescence Brain Imaging in Awake Animals. IEEE Transactions on Biomedical Circuits and Systems, 6(5). https://doi.org/10.1109/tbcas.2012.2226174
Dragićević, M., Platiša, J., Nikolić, R., Todorović, S., Bogdanović, M., Mitić, N., & Simonović, A. (2012). Herbicide Phosphinothricin Causes Direct Stimulation Hormesis. Dose-Response, 11(3). https://doi.org/10.2203/dose-response.12-039.simonovic
Barnett, L., Platisa, J., Popovic, M., Pieribone, V. A., & Hughes, T. (2012). A Fluorescent, Genetically-Encoded Voltage Probe Capable of Resolving Action Potentials. PLoS ONE, 7(9). https://doi.org/10.1371/journal.pone.0043454
Jin, L., Han, Z., Platisa, J., Wooltorton, J. R. A., Cohen, L. B., & Pieribone, V. A. (2012). Single Action Potentials and Subthreshold Electrical Events Imaged in Neurons with a Fluorescent Protein Voltage Probe. Neuron, 75(5). https://doi.org/10.1016/j.neuron.2012.06.040
Park, J. H., Platisa, J., Pieribone, V., & Culurciello, E. (2012). A Second-Generation Imaging System for Freely Moving Animals. 2012 IEEE International Symposium on Circuits and Systems,
Baker, B. J., Jin, L., Han, Z., Cohen, L. B., Popovic, M., Platisa, J., & Pieribone, V. (2012). Genetically Encoded Fluorescent Voltage Sensors Using the Voltage-Sensing Domain of Nematostella and Danio Phosphatases Exhibit Fast Kinetics. Journal of Neuroscience Methods, 208(2). https://doi.org/10.1016/j.jneumeth.2012.05.016
Han, Z., Jin, L., Platisa, J., Wooltorton, J., Salzberg, B. M., Cohen, L. B., & Pieribone, V. A. (2012). Improved Genetically Encoded Voltage Sensitive Optical Probes Detect Action Potentials and Subthreshold Events. Biophysical Journal, 102(3). https://doi.org/10.1016/j.bpj.2011.11.1171
Osman, A., Park, J. H., Dickensheets, D., Platisa, J., Culurcicllo, E., & Pieribone, V. A. (2011). A Head-Mountable Microscope for High-Speed Fluorescence Brain Imaging. 2011 IEEE Biomedical Circuits and Systems Conference (BioCAS),
Park, J. H., Platisa, J., Verhagen, J. V., Gautam, S. H., Osman, A., Kim, D., Pieribone, V. A., & Culurciello, E. (2011). Head-Mountable High Speed Camera for Optical Neural Recording. Journal of Neuroscience Methods, 201(2). https://doi.org/10.1016/j.jneumeth.2011.06.024
Davis, D. J., Sachdev, R., & Pieribone, V. A. (2011). Effect of High Velocity, Large Amplitude Stimuli on the Spread of Depolarization in S1 "Barrel" Cortex. Somatosensory & Motor Research, 28(3-4). https://doi.org/10.3109/08990220.2011.613177
Jin, L., Baker, B., Mealer, R., Cohen, L., Pieribone, V., Pralle, A., & Hughes, T. (2011). Random Insertion of Split-Cans of the Fluorescent Protein Venus into Shaker Channels Yields Voltage Sensitive Probes with Improved Membrane Localization in Mammalian Cells. Journal of Neuroscience Methods, 199(1). https://doi.org/10.1016/j.jneumeth.2011.03.028
Savic, J., Platisa, J., Dragicevic, M., Nikolic, R., Mitic, N., Cingel, A., & Vinterhalter, B. (2010). The Activity of Peroxidases and Superoxide Dismutases in Transgenic Phosphinothricin-Resistant Lotus Corniculatus Shoots. Archives of Biological Sciences, 62(4). https://doi.org/10.2298/abs1004063s
Ilagan, R. P., Rhoades, E., Gruber, D. F., Kao, H. T., Pieribone, V. A., & Regan, L. (2010). A New Bright Green‐Emitting Fluorescent Protein – Engineered Monomeric and Dimeric Forms. The FEBS Journal, 277(8). https://doi.org/10.1111/j.1742-4658.2010.07618.x
Jin, L., Mutoh, H., Knopfel, T., Cohen, L. B., Hughes, T., Pieribone, V. A., Isacoff, E. Y., Salzberg, B. M., & Baker, B. J. (2010). Genetically Encoded Protein Sensors of Membrane Potential. In Membrane Potential Imaging in the Nervous System (pp. 157-163). https://doi.org/10.1007/978-1-4419-6558-5_14
Han, Z., Jin, L., Baker, B., Cohen, L., Hughes, T., & Pieribone, V. (2010). Optimizing Protein-Based Optical Voltage Sensitive Probes: A Systematic Study. Biophysical Journal, 98(3). https://doi.org/10.1016/j.bpj.2009.12.2130
Gruber, D. F., DeSalle, R., Lienau, E. K., Tchernov, D., Pieribone, V. A., & Kao, H.-T. (2009). Novel Internal Regions of Fluorescent Proteins Undergo Divergent Evolutionary Patterns. Molecular Biology and Evolution, 26(12). https://doi.org/10.1093/molbev/msp194
Jin, L., Baker, B. J., Cohen, L. B., Mutoh, H., Dimitrov, D., Perron, A., Iwamoto, Y., Isacoff, E. Y., Pieribone, V. A., Hughes, T., Knöpfel, T., & Akemann, W. (2009). Fluorescent Sensors of Membrane Potential That Are Genetically Encoded. In Imaging the Brain with Optical Methods (pp. 27-43). https://doi.org/10.1007/978-1-4419-0452-2_2
Park, J. H., Pieribone, V., & Culurciello, E. (2009). Miniature Voltage Sensitive Dye Imaging System for in Vivo Experiments. 2009 IEEE/NIH Life Science Systems and Applications Workshop,
Jin, L., Baker, B., Cohen, L., Roman, C., Pieribone, V., Pralle, A., Isacoff, E., Mealer, R., & Hughes, T. (2009). Random Insertion of Split-Can Venus into Kv1.4 Yields Voltage Sensitive Fluorescent Probes. Biophysical Journal, 96(3). https://doi.org/10.1016/j.bpj.2008.12.2049
Vinterhalter, B., Savić, J., Platiša, J., Raspor, M., Ninković, S., Mitić, N., & Vinterhalter, D. (2008). Nickel Tolerance and Hyperaccumulation in Shoot Cultures Regenerated from Hairy Root Cultures of Alyssum Murale Waldst Et Kit. Plant Cell, Tissue and Organ Culture, 94(3). https://doi.org/10.1007/s11240-008-9343-7
Gruber, D. F., Pieribone, V. A., Porton, B., & Kao, H.-T. (2008). Strict Regulation of Gene Expression from a High-Copy Plasmid Utilizing a Dual Vector System. Protein Expression and Purification, 60(1). https://doi.org/10.1016/j.pep.2008.03.014
Gruber, D. F., Kao, H.-T., Janoschka, S., Tsai, J., & Pieribone, V. A. (2008). Patterns of Fluorescent Protein Expression in Scleractinian Corals. The Biological bulletin, 215(2). https://doi.org/10.2307/25470695
Kao, H. T., Li, P., Chao, H. M., Janoschka, S., Pham, K., Feng, J., McEwen, B. S., Greengard, P., Pieribone, V. A., & Porton, B. (2008). Early Involvement of Synapsin Iii in Neural Progenitor Cell Development in the Adult Hippocampus. Journal of Comparative Neurology, 507(6). https://doi.org/10.1002/cne.21643
Baker, B. J., Mutoh, H., Dimitrov, D., Akemann, W., Perron, A., Iwamoto, Y., Jin, L., Cohen, L. B., Isacoff, E. Y., Pieribone, V. A., Hughes, T., & Knöpfel, T. (2008). Genetically Encoded Fluorescent Sensors of Membrane Potential. Brain Cell Biology, 36(1-4). https://doi.org/10.1007/s11068-008-9026-7
Pieribone, V. A., & Culurciello, E. (2008). Development of an Implantable Optical Neuroprosthetic: System Intergration and Testing. https://doi.org/10.21236/ada501066
Platiša, J., Veljović-Jovanović, S., Kukavica, B., Vinterhalter, B., Smigocki, A., & Ninković, S. (2007). Induction of Peroxidases and Superoxide Dismutases in Transformed Embryogenic Calli of Alfalfa (Medicago Sativa L.). Journal of Plant Physiology, 165(8). https://doi.org/10.1016/j.jplph.2007.07.021
Pieribone, V. A., Tsai, J., Soufflet, C., Rey, E., Shaw, K., Giller, E., & Dulac, O. (2007). Clinical Evaluation of Ganaxolone in Pediatric and Adolescent Patients with Refractory Epilepsy. Epilepsia, 48(10). https://doi.org/10.1111/j.1528-1167.2007.01182.x
Kao, H.-T., Sturgis, S., DeSalle, R., Tsai, J., Davis, D., Gruber, D. F., & Pieribone, V. A. (2007). Dynamic Regulation of Fluorescent Proteins from a Single Species of Coral. Marine Biotechnology, 9(6). https://doi.org/10.1007/s10126-007-9025-1
Nagayama, S., Zeng, S., Xiong, W., Fletcher, M. L., Masurkar, A. V., Davis, D. J., Pieribone, V. A., & Chen, W. R. (2007). In Vivo Simultaneous Tracing and Ca2+ Imaging of Local Neuronal Circuits. Neuron, 53(6). https://doi.org/10.1016/j.neuron.2007.02.018
Bourne, J., Morgan, J. R., & Pieribone, V. A. (2006). Actin Polymerization Regulates Clathrin Coat Maturation During Early Stages of Synaptic Vesicle Recycling at Lamprey Synapses. Journal of Comparative Neurology, 497(4). https://doi.org/10.1002/cne.21006
Baker, B. J., Lee, H., Pieribone, V. A., Cohen, L. B., Isacoff, E. Y., Knopfel, T., & Kosmidis, E. K. (2006). Three Fluorescent Protein Voltage Sensors Exhibit Low Plasma Membrane Expression in Mammalian Cells. Journal of Neuroscience Methods, 161(1). https://doi.org/10.1016/j.jneumeth.2006.10.005
Chen, Y., Bourne, J., Pieribone, V. A., & Fitzsimonds, R. M. (2004). The Role of Actin in the Regulation of Dendritic Spine Morphology and Bidirectional Synaptic Plasticity. NeuroReport, 15(5). https://doi.org/10.1097/00001756-200404090-00018
Morgan, J. R., Di Paolo, G., Werner, H., Shchedrina, V. A., Pypaert, M., Pieribone, V. A., & De Camilli, P. (2004). A Role for Talin in Presynaptic Function. The Journal of Cell Biology, 167(1). https://doi.org/10.1083/jcb.200406020
Bloom, O., Evergren, E., Tomilin, N., Kjaerulff, O., Löw, P., Brodin, L., Pieribone, V. A., Greengard, P., & Shupliakov, O. (2003). Colocalization of Synapsin and Actin During Synaptic Vesicle Recycling. The Journal of Cell Biology, 161(4). https://doi.org/10.1083/jcb.200212140
Severson, C. A., Wang, W., Pieribone, V. A., Dohle, C. I., & Richerson, G. B. (2003). Midbrain Serotonergic Neurons Are Central Ph Chemoreceptors. Nature Neuroscience, 6(11). https://doi.org/10.1038/nn1130
Ataka, K., & Pieribone, V. A. (2002). A Genetically Targetable Fluorescent Probe of Channel Gating with Rapid Kinetics. Biophysical Journal, 82(1). https://doi.org/10.1016/s0006-3495(02)75415-5
Pieribone, V. A., Porton, B., Rendon, B., Feng, J., Greengard, P., & Kao, H. T. (2002). Expression of Synapsin Iii in Nerve Terminals and Neurogenic Regions of the Adult Brain. Journal of Comparative Neurology, 454(2). https://doi.org/10.1002/cne.10417
Shupliakov, O., Bloom, O., Gustafsson, J. S., Kjaerulff, O., Löw, P., Tomilin, N., Pieribone, V. A., Greengard, P., & Brodin, L. (2002). Impaired Recycling of Synaptic Vesicles after Acute Perturbation of the Presynaptic Actin Cytoskeleton. Proceedings of the National Academy of Sciences, 99(22). https://doi.org/10.1073/pnas.212381799
Bradley, S. R., Pieribone, V. A., Wang, W., Severson, C. A., Jacobs, R. A., & Richerson, G. B. (2002). Chemosensitive Serotonergic Neurons Are Closely Associated with Large Medullary Arteries. Nature Neuroscience, 5(5). https://doi.org/10.1038/nn848
Kao, H.-T., Song, H.-j., Porton, B., Ming, G.-l., Hoh, J., Abraham, M., Czernik, A. J., Pieribone, V. A., Poo, M.-m., & Greengard, P. (2002). A Protein Kinase a–Dependent Molecular Switch in Synapsins Regulates Neurite Outgrowth. Nature Neuroscience, 5(5). https://doi.org/10.1038/nn840
Pieribone, V. A., Richerson, G. B., Risso-Bradley, S., & Wang, W. (2001). Cellular Mechanisms of Chemosensitivity in Serotonergic Raphe Neurons. Respiratory Research, 2(Suppl 1). https://doi.org/10.1186/rr121
Bibb, J. A., Yan, Z., Svenningsson, P., Snyder, G. L., Pieribone, V. A., Horiuchi, A., Nairn, A. C., Messer, A., & Greengard, P. (2000). Severe Deficiencies in Dopamine Signaling in Presymptomatic Huntington's Disease Mice. Proceedings of the National Academy of Sciences, 97(12). https://doi.org/10.1073/pnas.120166397
Hökfelt, T., Arvidsson, U., Cullheim, S., Millhorn, D., Nicholas, A. P., Pieribone, V., Seroogy, K., & Ulfhake, B. (2000). Multiple Messengers in Descending Serotonin Neurons: Localization and Functional Implications. Journal of Chemical Neuroanatomy, 18(1-2). https://doi.org/10.1016/s0891-0618(99)00037-x
Low, P., Norlin, T., Risinger, C., Larhammar, D., Pieribone, V. A., Shupliakov, O., & Brodin, L. (1999). Inhibition of Neurotransmitter Release in the Lamprey Reticulospinal Synapse by Antibody-Mediated Disruption of Snap-25 Function. European Journal of Cell Biology, 78(11). https://doi.org/10.1016/s0171-9335(99)80029-6
Kao, H. T., Porton, B., Hilfiker, S., Stefani, G., Pieribone, V. A., DeSalle, R., & Greengard, P. (1999). Molecular Evolution of the Synapsin Gene Family. Journal of Experimental Zoology, 285(4). https://doi.org/10.1002/(sici)1097-010x(19991215)285:4<360::aid-jez4>3.0.co;2-3
Hilfiker, S., Pieribone, V. A., Nordstedt, C., Greengard, P., & Czernik, A. J. (1999). Regulation of Synaptotagmin I Phosphorylation by Multiple Protein Kinases. Journal of Neurochemistry, 73(3). https://doi.org/10.1046/j.1471-4159.1999.0730921.x
Hilfiker, S., Pieribone, V. A., Czernik, A. J., Kao, H.-T., Augustine, G. J., & Greengard, P. (1999). Synapsins as Regulators of Neurotransmitter Release. Philosophical Transactions of the Royal Society of London. Series B: Biological Sciences, 354(1381). https://doi.org/10.1098/rstb.1999.0378
Pieribone, V. A., Xu, Z. Q. D., Zhang, X. U., & HÖKfelt, T. (1998). Electrophysiologic Effects of Galanin on Neurons of the Central Nervous System A. Annals of the New York Academy of Sciences, 863(1). https://doi.org/10.1111/j.1749-6632.1998.tb10701.x
Xu, Z. Q. D., Zhang, X., Pieribone, V. A., Grillner, S., & Hökfelt, T. (1998). Galanin–5-Hydroxytryptamine Interactions: Electrophysiological, Immunohistochemical and in Situ Hybridization Studies on Rat Dorsal Raphe Neurons with a Note on Galanin R1 and R2 Receptors. Neuroscience, 87(1). https://doi.org/10.1016/s0306-4522(98)00151-1
Andersen, Ø., Pantopoulos, K., Kao, H. T., Muckenthaler, M., Youson, J. H., & Pieribone, V. (1998). Regulation of Iron Metabolism in the Sanguivore Lamprey Lampetra Fluviatilis. European Journal of Biochemistry, 254(2). https://doi.org/10.1046/j.1432-1327.1998.2540223.x
Brodin, L., Löw, P., Gad, H., Gustafsson, J., Pieribone, V. A., & Shupliakov, O. (1997). Sustained Neurotransmitter Release: New Molecular Clues. European Journal of Neuroscience, 9(12). https://doi.org/10.1111/j.1460-9568.1997.tb01679.x
Nicholas, A. P., Hökfely, T., & Pieribone, V. A. (1996). The Distribution and Significance of Cns Adrenoceptors Examined with in Situ Hybridization. Trends in Pharmacological Sciences, 17(7). https://doi.org/10.1016/0165-6147(96)10022-5
Shupliakov, O., Pieribone, V. A., Gad, H., & Brodin, L. (1996). Presynaptic Mechanisms in Central Synaptic Transmission: Glutamatergic Synapse 'Biochemistryglutamatergic Synapse ' of an Intact Glutamatergic Synapse. Acta Physiologica Scandinavica, 157(3). https://doi.org/10.1046/j.1365-201x.1996.31251000.x
Kao, H. T., Stefani, G., Han, H. Q., Pieribone, V. A., & Greengard, P. (1996). 322. Synapsin Isoforms from Primitive Vertebrates: Evolutionary and Functional Significance. Biological Psychiatry, 39(7). https://doi.org/10.1016/0006-3223(96)84267-3
Shupliakov, O., Pieribone, V. A., Gad, H., & Brodin, L. (1995). Synaptic Vesicle Depletion in Reticulospinal Axons Is Reduced by 5‐Hydroxytryptamine: Direct Evidence for Presynaptic Modulation of Glutamatergic Transmission. European Journal of Neuroscience, 7(5). https://doi.org/10.1111/j.1460-9568.1995.tb01099.x
Pieribone, V. A., Shupliakov, O., Brodin, L., Hilfiker-Rothenfluh, S., Czernik, A. J., & Greengard, P. (1995). Distinct Pools of Synaptic Vesicles in Neurotransmitter Release. Nature, 375(6531). https://doi.org/10.1038/375493a0
Pieribone, V. (1995). Overcoming Resistance to Reverse Transcriptase Inhibitors. GMHC treatment issues : the Gay Men's Health Crisis newsletter of experimental AIDS therapies, 9(9). https://app.dimensions.ai/details/publication/pub.1074818350
Brodin, L., Söderberg, C., Pieribone, V., & Larhammar, D. (1995). Chapter 4 Peptidergic Neurons in the Vertebrate Spinal Cord: Evolutionary Trends. In Neuropeptides in the Spinal Cord (pp. 61-74). https://doi.org/10.1016/s0079-6123(08)61784-7
Pieribone, V. A., Xu, Z. Q., Zhang, X., Grillner, S., Bartfai, T., & Hökfelt, T. (1995). Galanin Induces a Hyperpolarization of Norepinephrine-Containing Locus Coeruleus Neurons in the Brainstem Slice. Neuroscience, 64(4). https://doi.org/10.1016/0306-4522(94)00450-j
Nicholas, A. P., Pieribone, V., Dagerlind, Å., Meister, B., Elde, R., & HÖKfelt, T. (1995). A Complementary Method to Radioligand‐Mediated Autoradiography for Localizing Adrenergic, Alpha‐2 Receptor‐Producing Cellsfn2. Annals of the New York Academy of Sciences, 763(1). https://doi.org/10.1111/j.1749-6632.1995.tb32409.x
Pieribone, V. A., Brodin, L., & Hökfelt, T. (1994). Immunohistochemical Analysis of the Relation between 5‐Hydroxytryptamine‐ and Neuropeptide‐Immunoreactive Elements in the Spinal Cord of an Amphibian (Xenopus Laevis). Journal of Comparative Neurology, 341(4). https://doi.org/10.1002/cne.903410406
Xu, Z.-Q., Pieribone, V. A., Zhang, X., Grillner, S., & Hökfelt, T. (1994). A Functional Role for Nitric Oxide in Locus Coeruleus: Immunohistochemical and Electrophysiological Studies. Experimental Brain Research, 98(1). https://doi.org/10.1007/bf00229111
Söderberg, C., Pieribone, V. A., Dahlstrand, J., Brodin, L., & Larhammar, D. (1994). Neuropeptide Role of Both Peptide Yy and Neuropeptide Y in Vertebrates Suggested by Abundant Expression of Their Mrnas in a Cyclostome Brain. Journal of Neuroscience Research, 37(5). https://doi.org/10.1002/jnr.490370510
Brodin, L., Shupliakov, O., Pieribone, V. A., Hellgren, J., & Hill, R. H. (1994). The Reticulospinal Glutamate Synapse in Lamprey: Plasticity and Presynaptic Variability. Journal of Neurophysiology, 72(2). https://doi.org/10.1152/jn.1994.72.2.592
Pieribone, V. A., Nicholas, A. P., Dagerlind, A., & Hokfelt, T. (1994). Distribution of Alpha 1 Adrenoceptors in Rat Brain Revealed by in Situ Hybridization Experiments Utilizing Subtype-Specific Probes. The Journal of neuroscience : the official journal of the Society for Neuroscience, 14(7). https://doi.org/10.1523/jneurosci.14-07-04252.1994
Orazzo, C., Pieribone, V. A., Ceccatelli, S., Terenius, L., & Hökfelt, T. (1993). Cgrp-Like Immunoreactivity in A11 Dopamine Neurons Projecting to the Spinal Cord and a Note on Cgrp-Cck Cross-Reactivity. Brain Research, 600(1). https://doi.org/10.1016/0006-8993(93)90399-8
Nicholas, A. P., Pieribone, V. A., & Hökfelt, T. (1993). Cellular Localization of Messenger Rna for Beta-1 and Beta-2 Adrenergic Receptors in Rat Brain: An in Situ Hybridization Study. Neuroscience, 56(4). https://doi.org/10.1016/0306-4522(93)90148-9
Nicholas, A. P., Pieribone, V., & Hökfelt, T. (1993). Distributions of Mrnas for Alpha‐2 Adrenergic Receptor Subtypes in Rat Brain: An in Situ Hybridization Study. Journal of Comparative Neurology, 328(4). https://doi.org/10.1002/cne.903280409
Risinger, C., Blomqvist, A. G., Lundell, I., Lambertsson, A., Nässel, D., Pieribone, V. A., Brodin, L., & Larhammar, D. (1993). Evolutionary Conservation of Synaptosome-Associated Protein 25 Kda (Snap-25) Shown by Drosophila and Torpedo Cdna Clones. Journal of Biological Chemistry, 268(32). https://doi.org/10.1016/s0021-9258(20)80540-7
Nicholas, A. P., Pieribone, V. A., Arvidsson, U., & Hökfelt, T. (1992). Serotonin-, Substance P- and Glutamate/Aspartate-Like Immunoreactivities in Medullo-Spinal Pathways of Rat and Primate. Neuroscience, 48(3). https://doi.org/10.1016/0306-4522(92)90401-m
Pieribone, V. A., Brodin, L., Friberg, K., Dahlstrand, J., Soderberg, C., Larhammar, D., & Hokfelt, T. (1992). Differential Expression of Mrnas for Neuropeptide Y-Related Peptides in Rat Nervous Tissues: Possible Evolutionary Conservation. The Journal of neuroscience : the official journal of the Society for Neuroscience, 12(9). https://doi.org/10.1523/jneurosci.12-09-03361.1992
Hökfelt, T., Åman, K., Arvidsson, U., Bedecs, K., Ceccatelli, S., Hulting, A.-L., Langel, U., Meister, B., Pieribone, V., & Bartfai, T. (1992). Galanin Message-Associated Peptide (Gmap)- and Galanin-Like Immunoreactivities: Overlapping and Differential Distributions in the Rat. Neuroscience Letters, 142(2). https://doi.org/10.1016/0304-3940(92)90358-e
HÖKfelt, T., Arvidsson, U., Bean, A., Castel, M. N., Ceccatelli, S., Dagerlind, Å., Elde, R. P., Meister, B., Morino, P., Nicholas, A. P., Pelto-Huikko, M., Pieribone, V., Schalling, M., Verge, V., Xu, Z., Rtfai, T., & Wiesenfeld-Hallin, Z. (1992). Colocalization of Neuropeptides and Classical Neurotransmitters – Functional Significance. Clinical Neuropharmacology, 15(Part A). https://doi.org/10.1097/00002826-199201001-00160
HÖKfelt, T., Arvidsson, U. L. F., Ceccatelli, S., CortÉS, R., Cullheim, S., Dagerlind, Å., Johnson, H., Orazzo, C., Piehl, F., Pieribone, V., Schalling, M., Terenius, L., Ulfhake, B., Verge, V. M., Villar, M., Wiesenfeld‐Hallin, Z., Xu, X. J., & Xu, Z. (1992). Calcitonin Gene‐Related Peptide in the Brain, Spinal Cord, and Some Peripheral Systemsa. Annals of the New York Academy of Sciences, 657(1). https://doi.org/10.1111/j.1749-6632.1992.tb22762.x
Nicholas, A. P., Pieribone, V. A., Elde, R., & Hökfelt, T. (1991). Initial Observations on the Localization of Mrna for Α and Β Adrenergic Receptors in Brain and Peripheral Tissues of Rat Using in Situ Hybridization. Molecular and Cellular Neuroscience, 2(4). https://doi.org/10.1016/1044-7431(91)90065-v
van Bockstaele, E. J., Aston‐Jones, G., Pieribone, V. A., Ennis, M., & Shipley, M. T. (1991). Subregions of the Periaqueductal Gray Topographically Innervate the Rostral Ventral Medulla in the Rat. Journal of Comparative Neurology, 309(3). https://doi.org/10.1002/cne.903090303
Pieribone, V. A., & Aston-Jones, G. (1991). Adrenergic Innervation of the Rat Nucleus Locus Coeruleus Arises Predominantly from the C1 Adrenergic Cell Group in the Rostral Medulla. Neuroscience, 41(2-3). https://doi.org/10.1016/0306-4522(91)90346-p
Aston-Jones, G., Shipley, M. T., Chouvet, G., Ennis, M., van Bockstaele, E., Pieribone, V., Shiekhattar, R., Akaoka, H., Drolet, G., Astier, B., Charléty, P., Valentino, R. J., & Williams, J. T. (1991). Chapter 4 Afferent Regulation of Locus Coeruleus Neurons: Anatomy, Physiology and Pharmacology. In Neurobiology of the Locus Coeruleus (pp. 47-75). https://doi.org/10.1016/s0079-6123(08)63799-1
Astier, B., Van Bockstaele, E. J., Aston-Jones, G., & Pieribone, V. A. (1990). Anatomical Evidence for Multiple Pathways Leading from the Rostral Ventrolateral Medulla (Nucleus Paragigantocellularis) to the Locus Coeruleus in Rat. Neuroscience Letters, 118(2). https://doi.org/10.1016/0304-3940(90)90612-d
Van Bockstaele, E. J., Pieribone, V. A., & Aston‐Jones, G. (1989). Diverse Afferents Converge on the Nucleus Paragigantocellularis in the Rat Ventrolateral Medulla: Retrograde and Anterograde Tracing Studies. Journal of Comparative Neurology, 290(4). https://doi.org/10.1002/cne.902900410
Pieribone, V. A., & Aston-Jones, G. (1988). The Iontophoretic Application of Fluoro-Gold for the Study of Afferents to Deep Brain Nuclei. Brain Research, 475(2). https://doi.org/10.1016/0006-8993(88)90614-2
Pieribone, V. A., Aston-Jones, G., & Bohn, M. C. (1988). Adrenergic and Non-Adrenergic Neurons in the C1 and C3 Areas Project to Locus Coeruleus: A Fluorescent Double Labeling Study. Neuroscience Letters, 85(3). https://doi.org/10.1016/0304-3940(88)90582-4
Aston-Jones, G., Ennis, M., Pieribone, V. A., Nickell, W. T., & Shipley, M. T. (1986). The Brain Nucleus Locus Coeruleus: Restricted Afferent Control of a Broad Efferent Network. Science, 234(4777). https://doi.org/10.1126/science.3775363