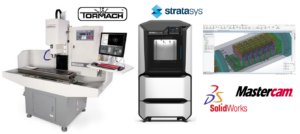 Onsite Technical Services & Machine Shop
Solidworks/Mastercam 3D Modeling
CNC Machining, 3D Printing
Laser & Waterjet Cutting
Turning, Milling, Assembly
Metals, Plastics, Wood
Electronics Design & Fabrication
Embedded Controls & Programming
Software Development & Automation
Experienced Design Team
Our in-house machine shop and team of experienced engineers, CNC machinists, and designers can support your product design and prototyping needs.
We can also assist with outsourcing and ramping up production through our network of associates. Our affiliation with Yale University provides us access to various advanced fabrication services.
Located on the Yale Medical School campus, with private parking, comfortable meeting rooms, and a cozy café, we provide a welcoming environment for our guests as we discuss your technical needs.
To Get Started:
Initial consultations are free and we provide estimates and quotes for projects or simple jobs as needed.  Our services are available to the public, general scientific community, New Haven Innovation Labs clients and BioCT affiliates.
Contact:  John Buckley
Email:  jbuckley@jbpierce.org
Phone: 203-562-9901 ext.223