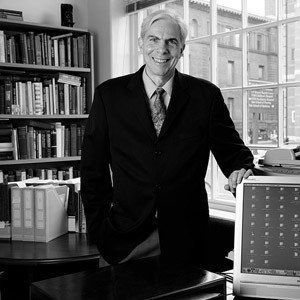 Director Emeritus and Fellow Emeritus
The John B. Pierce Laboratory
Professor Emeritus of Epidemiology and Public Health and Psychology
Yale School of Public Health
lmarks@jbpierce.org
Telephone: (203) 562-9901,
EXT. 230
Education
AB, Hunter College, City University of New York, 1962
PhD, Harvard University, 1965
Biographical Sketch
After a post-doctoral year at Harvard, Marks came to the Pierce Laboratory in 1966. He was promoted to Fellow in 1984 and served as Director from 1999-2009. Originally trained as a cognitive psychologist specializing in language, Marks has devoted most of his scientific career to elucidating human sensory and perceptual processes, including mechanisms of multisensory integration and interactions of sensory with cognitive processes in the coding and representation of perceptual information. Among his awards and honors are election as Fellow of the Society for Experimental Psychologists, the American Association for the Advancement of Science, the New York Academy of Sciences, the American Psychological Association, and the Association for Psychological Science; election to the Connecticut Association for Science and Engineering; a Jacob Javits/Claude Pepper Award from the National Institutes of Health; and an honorary doctorate from Stockholm University.
Recent Publications
Wallmark, Z., Nghiem, L., & Marks, L. E. (2021). Does Timbre Modulate Visual Perception? Exploring Crossmodal interactions. Music Perception, 39(1). https://doi.org/10.1525/mp.2021.39.1.1
Veldhuizen, M. G., Siddique, A., Rosenthal, S., & Marks, L. E. (2017). Interactions of Lemon, Sucrose and Citric Acid in Enhancing Citrus, Sweet and Sour Flavors. Chemical Senses, 43(1). https://doi.org/10.1093/chemse/bjx063
Stevens, S. S., & Marks, L. E. (2017). Introduction to Its Perceptual, Neural and Social Prospects Psychophysics. https://doi.org/10.4324/9781315127675
Shepard, T. G., Shavit, A. Y., Veldhuizen, M. G., & Marks, L. E. (2016). Contextual Effects in Judgments of Taste Intensity: No Assimilation, Sometimes Contrast. Perception, 46(3-4). https://doi.org/10.1177/0301006616686099
Marks, L. E., & Mulvenna, C. M. (2016). Synesthesia: Perception, Language, Digital Art. In Digital Synesthesia (pp. 29-34). https://doi.org/10.1515/9783110459937-004
Velasco, C., Woods, A. T., Marks, L. E., Cheok, A. D., & Spence, C. (2016). The Semantic Basis of Taste-Shape Associations. PeerJ, 4. https://doi.org/10.7717/peerj.1644
Hallowell, E. S., Parikh, R., Veldhuizen, M. G., & Marks, L. E. (2016). Flavor Identification and Intensity: Effects of Stimulus Context. Chemical Senses, 41(3). https://doi.org/10.1093/chemse/bjv087
Velasco, C., Woods, A. T., Marks, L. E., Cheok, A. D., & Spence, C. (2015). The Semantic Basis of Taste-Shape Associations. PeerJ Preprints. https://doi.org/10.7287/peerj.preprints.1366
Jones, B. L., & Marks, L. E. (2015). Picture Quality Assessment: A Comparison of Ratio and Ordinal Scales. SMPTE Journal, 94(12). https://doi.org/10.5594/j03315
Shepard, T. G., Veldhuizen, M. G., & Marks, L. E. (2015). Response Times to Gustatory–Olfactory Flavor Mixtures: Role of Congruence. Chemical Senses, 40(8). https://doi.org/10.1093/chemse/bjv042
Eitan, Z., Schupak, A., Gotler, A., & Marks, L. E. (2014). Lower Pitch Is Larger, yet Falling Pitches Shrink. Experimental Psychology, 61(4). https://doi.org/10.1027/1618-3169/a000246
Marks, L. E., & Mulvennad, C. M. (2014). Synesthesia on Our Mind. Theoria et Historia Scientiarum, 10(0). https://doi.org/10.12775/ths-2013-0002
Dwiwardani, C., Hill, P. C., Bollinger, R. A., Marks, L. E., Steele, J. R., Doolin, H. N., Wood, S. L., Hook, J. N., & Davis, D. E. (2014). Virtues Develop from a Secure Base: Attachment and Resilience as Predictors of Humility, Gratitude, and Forgiveness. Journal of Psychology and Theology, 42(1). https://doi.org/10.1177/009164711404200109
Marks, L. E. (2014). Synesthesia: A Teeming Multiplicity. In Varieties of Anomalous Experience: Examining the Scientific Evidence (2nd Ed.). (pp. 79-108). https://doi.org/10.1037/14258-004
Brewer, J. M., Shavit, A. Y., Shepard, T. G., Veldhuizen, M. G., Parikh, R., & Marks, L. E. (2013). Identification of Gustatory–Olfactory Flavor Mixtures: Effects of Linguistic Labeling. Chemical Senses, 38(4). https://doi.org/10.1093/chemse/bjs142
Marks, L. E., & Mulvenna, C. M. (2013). Synesthesia, at and near Its Borders. Frontiers in Psychology, 4. https://doi.org/10.3389/fpsyg.2013.00651
Goertz, M. P., Marks, L. E., & Montaño, G. A. (2012). Correction to Biomimetic Monolayer and Bilayer Membranes Made from Amphiphilic Block Copolymer Micelles. ACS Nano, 6(7). https://doi.org/10.1021/nn3028634
Goertz, M. P., Marks, L. E., & Montaño, G. A. (2012). Biomimetic Monolayer and Bilayer Membranes Made from Amphiphilic Block Copolymer Micelles. ACS Nano, 6(2). https://doi.org/10.1021/nn204491q
Eitan, Z., & Marks, L. E. (2012). Garner's Paradigm and Audiovisual Correspondence in Dynamic Stimuli: Pitch and Vertical Direction. Seeing and Perceiving, 25(0). https://doi.org/10.1163/187847612×646910
Marks, L. E., Veldhuizen, M. G., Shepard, T. G., & Shavit, A. Y. (2011). Detecting Gustatory–Olfactory Flavor Mixtures: Models of Probability Summation. Chemical Senses, 37(3). https://doi.org/10.1093/chemse/bjr103
Marks, L. E., Shepard, T. G., Burger, K., & Chakwin, E. M. (2011). Flavor-Intensity Perception: Effects of Stimulus Context. Physiology & Behavior, 105(2). https://doi.org/10.1016/j.physbeh.2011.08.039
Marks, L. E. (2011). Synesthesia, Then and Now. Intellectica. Revue de l'Association pour la Recherche Cognitive, 55(1). https://doi.org/10.3406/intel.2011.1161
Marks, L. E., & Florentine, M. (2010). Measurement of Loudness, Part I: Methods, Problems, and Pitfalls. In Loudness (pp. 17-56). https://doi.org/10.1007/978-1-4419-6712-1_2
Arieh, Y., & Marks, L. E. (2010). Measurement of Loudness, Part Ii: Context Effects. In Loudness (pp. 57-87). https://doi.org/10.1007/978-1-4419-6712-1_3
Arieh, Y., & Marks, L. E. (2010). Post-Transient Shifts in Auditory Lateralization: Effects of Target Level. The Journal of the Acoustical Society of America, 127(1). https://doi.org/10.1121/1.3270393
Veldhuizen, M. G., Shepard, T. G., Wang, M.-F., & Marks, L. E. (2009). Coactivation of Gustatory and Olfactory Signals in Flavor Perception. Chemical Senses, 35(2). https://doi.org/10.1093/chemse/bjp089
Wang, M.-F., Marks, L. E., & Frank, M. E. (2009). Taste Coding after Selective Inhibition by Chlorhexidine. Chemical Senses, 34(8). https://doi.org/10.1093/chemse/bjp047
Ross, D. A., & Marks, L. E. (2009). Absolute Pitch in Children Prior to the Beginning of Musical Training. Annals of the New York Academy of Sciences, 1169(1). https://doi.org/10.1111/j.1749-6632.2009.04847.x
Marks, L. E. (2008). Does Induced Loudness Reduction Explain Contextual Effects in Loudness Judgment. The Journal of the Acoustical Society of America, 123(5). https://doi.org/10.1121/1.2933735
Arieh, Y., & Marks, L. E. (2008). Cross-Modal Interaction between Vision and Hearing: A Speed—Accuracy Analysis. Perception & Psychophysics, 70(3). https://doi.org/10.3758/pp.70.3.412
Ittyerah, M., & Marks, L. E. (2008). Intramodal and Cross-Modal Discrimination of Curvature: Haptic Touch Versus Vision. Current psychology letters. Behaviour, brain & cognition, 24(Vol. 24, Issue 1, 2008). https://doi.org/10.4000/cpl.3333
Ittyerah, M., & Marks, L. E. (2007). Memory for Curvature of Objects: Haptic Touch Vs. Vision. British Journal of Psychology, 98(4). https://doi.org/10.1348/000712606×171531
Arieh, Y., & Marks, L. E. (2007). Posttransient Shifts in Auditory Lateralization. Perception & Psychophysics, 69(4). https://doi.org/10.3758/bf03193909
Marks, L. E., Elgart, B. Z., Burger, K., & Chakwin, E. M. (2007). Human Flavor Perception: Application of Information Integration Theory. Teorie & modelli, 1(2). https://app.dimensions.ai/details/publication/pub.1077822390
Marks, L. E., & Arieh, Y. (2006). Differential Effects Of stimulus Context In sensory Processing. Revue Européenne de Psychologie Appliquée/European Review of Applied Psychology, 56(4). https://doi.org/10.1016/j.erap.2005.09.009
Pollock, R. A., Carter, A. S., Amir, N., & Marks, L. E. (2006). Anxiety Sensitivity and Auditory Perception of Heartbeat. Behaviour Research and Therapy, 44(12). https://doi.org/10.1016/j.brat.2005.12.013
Ross, D. A., Gore, J. C., & Marks, L. E. (2005). Absolute Pitch: Music and Beyond. Epilepsy & Behavior, 7(4). https://doi.org/10.1016/j.yebeh.2005.05.019
Arieh, Y., Kelly, K., & Marks, L. E. (2005). Tracking the Time to Recovery after Induced Loudness Reduction (L). The Journal of the Acoustical Society of America, 117(6). https://doi.org/10.1121/1.1898103
Ross, D. A., Olson, I. R., Marks, L. E., & Gore, J. C. (2004). A Nonmusical Paradigm for Identifying Absolute Pitch Possessors. The Journal of the Acoustical Society of America, 116(3). https://doi.org/10.1121/1.1758973
Odgaard, E. C., Arieh, Y., & Marks, L. E. (2004). Brighter Noise: Sensory Enhancement of Perceived Loudness by Concurrent Visual Stimulation. Cognitive, Affective, & Behavioral Neuroscience, 4(2). https://doi.org/10.3758/cabn.4.2.127
Marks, L. E., & Odgaard, E. C. (2004). Developmental Constraints on Theories of Synesthesia. In Synesthesia (pp. 214-236). https://doi.org/10.1093/oso/9780195166231.003.0011
Marks, L. E. (2004). Cross-Modal Interactions in Speeded Classification. In The Handbook of Multisensory Processes (pp. 85-106). https://doi.org/10.7551/mitpress/3422.003.0009
Arieh, Y., Mailloux, J. R., & Marks, L. E. (2004). Loudness Recalibration at Short Isi: A Closer Look. The Journal of the Acoustical Society of America, 115(5). https://doi.org/10.1121/1.4784577
Ashkenazi, A., & Marks, L. E. (2004). Effect of Endogenous Attention on Detection of Weak Gustatory and Olfactory Flavors. Perception & Psychophysics, 66(4). https://doi.org/10.3758/bf03194904
Ashkenazi, A., Fritz, M., Buckley, J., & Marks, L. E. (2004). The Temporal Automated System for Taste Experiments (Taste). Behavior Research Methods, Instruments, & Computers, 36(1). https://doi.org/10.3758/bf03195552
Marks, L. E., Ben-Artzi, E., & Lakatos, S. (2003). Cross-Modal Interactions in Auditory and Visual Discrimination. International Journal of Psychophysiology, 50(1-2). https://doi.org/10.1016/s0167-8760(03)00129-6
Arieh, Y., & Marks, L. E. (2003). Time Course of Loudness Recalibration: Implications for Loudness Enhancement. The Journal of the Acoustical Society of America, 114(3). https://doi.org/10.1121/1.1603768
Arieh, Y., & Marks, L. E. (2003). Recalibrating the Auditory System: A Speed–Accuracy Analysis of Intensity Perception. Journal of Experimental Psychology: Human Perception and Performance, 29(3). https://doi.org/10.1037/0096-1523.29.3.523
Ross, D. A., Gore, J. C., & Marks, L. E. (2003). Evidence for Distinct Types of ''Perfect Pitch.''. The Journal of the Acoustical Society of America, 113(4). https://doi.org/10.1121/1.4780626
Marks, L. E. (2003). The Role of Attention in Chemosensation. Food Quality and Preference, 14(2). https://doi.org/10.1016/s0950-3293(02)00076-9
Odgaard, E. C., Arieh, Y., & Marks, L. E. (2003). Cross-Modal Enhancement of Perceived Brightness: Sensory Interaction Versus Response Bias. Perception & Psychophysics, 65(1). https://doi.org/10.3758/bf03194789
Marks, L. E. (2002). "But This Is Wondrous Strange!". Contemporary Psychology, 47(6). https://doi.org/10.1037/001299
Jiang, Y., Chun, M. M., & Marks, L. E. (2002). Visual Marking: Selective Attention to Asynchronous Temporal Groups. Journal of Experimental Psychology: Human Perception and Performance, 28(3). https://doi.org/10.1037/0096-1523.28.3.717
Marks, L. E. (2002). O for a Life of Sensations. Contemporary Psychology, 47(3). https://doi.org/10.1037/001122
Jiang, Y., Chun, M. M., & Marks, L. E. (2002). Correction to Jiang Et Al. (2002). Journal of Experimental Psychology: Learning, Memory, and Cognition, 28(3). https://doi.org/10.1037/0278-7393.28.3.410
Arieh, Y., & Marks, L. E. (2002). Context Effects in Visual Length Perception: Role of Ocular, Retinal, and Spatial Location. Perception & Psychophysics, 64(3). https://doi.org/10.3758/bf03194719
Jiang, Y., Chun, M. M., & Marks, L. E. (2002). Visual Marking: Dissociating Effects of New and Old Set Size. Journal of Experimental Psychology: Learning, Memory, and Cognition, 28(2). https://doi.org/10.1037/0278-7393.28.2.293
Marks, L. E., & Gescheider, G. A. (2002). Psychophysical Scaling. In Stevens' Handbook of Experimental Psychology. https://doi.org/10.1002/0471214426.pas0403
Martino, G., & Marks, L. E. (2001). Synesthesia: Strong and Weak. Current Directions in Psychological Science, 10(2). https://doi.org/10.1111/1467-8721.00116
Rankin, K. M., & Marks, L. E. (2000). Chemosensory Context Effects: Role of Perceived Similarity and Neural Commonality. Chemical Senses, 25(6). https://doi.org/10.1093/chemse/25.6.747
Martino, G., & Marks, L. E. (2000). Cross-Modal Interaction between Vision and Touch: The Role of Synesthetic Correspondence. Perception, 29(6). https://doi.org/10.1068/p2984
Marks, L. E. (2000). Synesthesia. In Varieties of Anomalous Experience: Examining the Scientific Evidence. (pp. 121-149). https://doi.org/10.1037/10371-004
Hettinger, T. P., Gent, J. F., Marks, L. E., & Frank, M. E. (1999). Study of Taste Perception. Perception & Psychophysics, 61(8). https://doi.org/10.3758/bf03213114
Gent, J. F., Hettinger, T. P., Frank, M. E., & Marks, L. E. (1999). Taste Confusions Following Gymnemic Acid Rinse. Chemical Senses, 24(4). https://doi.org/10.1093/chemse/24.4.393
Armstrong, L., & Marks, L. E. (1999). Haptic Perception of Linear Extent. Perception & Psychophysics, 61(6). https://doi.org/10.3758/bf03207624
Martino, G., & Marks, L. E. (1999). Perceptual and Linguistic Interactions in Speeded Classification: Tests of the Semantic Coding Hypothesis. Perception, 28(7). https://doi.org/10.1068/p2866
Ben-Artzi, E., & Marks, L. E. (1999). Processing Linguistic and Perceptual Dimensions of Speech: Interactions in Speeded Classification. Journal of Experimental Psychology: Human Perception and Performance, 25(3). https://doi.org/10.1037/0096-1523.25.3.579
Lakatos, S., & Marks, L. E. (1999). Haptic Form Perception: Relative Salience of Local and Global Features. Perception & Psychophysics, 61(5). https://doi.org/10.3758/bf03206904
Marks, L. E. (1998). Interactions: Some Contacts between the Natural Sciences and the Social Sciences. Journal of the History of the Behavioral Sciences, 34(3). https://doi.org/10.1002/(sici)1520-6696(199822)34:3<287::aid-jhbs8>3.0.co;2-n
Marks, L. E., & Wheeler, M. E. (1998). Focused Attention and the Detectability of Weak Gustatory Stimuli: Empirical Measurement and Computer Simulationsa. Annals of the New York Academy of Sciences, 855(1). https://doi.org/10.1111/j.1749-6632.1998.tb10639.x
Stevens, J. C., Cruz, L. A., Marks, L. E., & Lakatos, S. (1998). A Multimodal Assessment of Sensory Thresholds in Aging. The Journals of Gerontology: Series B, 53B(4). https://doi.org/10.1093/geronb/53b.4.p263
Lakatos, S., & Marks, L. E. (1998). Haptic Underestimation of Angular Extent. Perception, 27(6). https://doi.org/10.1068/p270737
Marks, L. E., & Wheeler, M. E. (1998). Attention and the Detectability of Weak Taste Stimuli. Chemical Senses, 23(1). https://doi.org/10.1093/chemse/23.1.19
Potts, B. C., Melara, R. D., & Marks, L. E. (1998). Circle Size and Diameter Tilt: A New Look at Integrality and Separability. Perception & Psychophysics, 60(1). https://doi.org/10.3758/bf03211921
Marks, L. E., & Algom, D. (1998). Chapter 2 Psychophysical Scaling. In Measurement, Judgment and Decision Making (pp. 81-178). https://doi.org/10.1016/b978-012099975-0.50004-x
Armstrong, L., & Marks, L. E. (1997). Differential Effects of Stimulus Context on Perceived Length: Implications for the Horizontal-Vertical Illusion. Perception & Psychophysics, 59(8). https://doi.org/10.3758/bf03214208
Marks, L. E. (1996). Erratum: Recalibrating the Perception of Loudness: Interaural Transfer [J. Acoust. Soc. Am. 100 , 473–480 (1996)]. The Journal of the Acoustical Society of America, 100(6). https://doi.org/10.1121/1.417352
Marks, L. E. (1996). "Come, Give Us a Taste of Your Quality". Contemporary Psychology: A Journal of Reviews, 41(12). https://doi.org/10.1037/003268
Marks, L. E. (1996). Recalibrating the Perception of Loudness: Interaural Transfer. The Journal of the Acoustical Society of America, 100(1). https://doi.org/10.1121/1.415860
Marks, L. E. (1996). On Perceptual Metaphors. Metaphor and Symbolic Activity, 11(1). https://doi.org/10.1207/s15327868ms1101_3
Ben-Artzi, E., & Marks, L. E. (1995). Visual-Auditory Interaction in Speeded Classification: Role of Stimulus Difference. Perception & Psychophysics, 57(8). https://doi.org/10.3758/bf03208371
Marks, L. E., Galanter, E., & Baird, J. C. (1995). Binaural Summation after Learning Psychophysical Functions for Loudness. Perception & Psychophysics, 57(8). https://doi.org/10.3758/bf03208377
Marks, L. E. (1995). Cross-Modal Perception: Similarities and Communalities. The Journal of the Acoustical Society of America, 97(5_Supplement). https://doi.org/10.1121/1.412901
Marks, L. E. (1994). Is ''Recalibration'' of Loudness Related to Short-Term Auditory Fatigue? The Journal of the Acoustical Society of America, 95(5_Supplement). https://doi.org/10.1121/1.409143
Marks, L. E. (1994). "Recalibrating" the Auditory System: The Perception of Loudness. Journal of Experimental Psychology: Human Perception and Performance, 20(2). https://doi.org/10.1037/0096-1523.20.2.382
Marks, L. B. (1993). Conventional Fractionated Radiation Therapy Vs. Radiosurgery for Selected Benign Intracranial Lesions (Arteriovenous Malformations, Pituitary Adenomas, and Acoustic Neuromas). Journal of Neuro-Oncology, 17(3). https://doi.org/10.1007/bf01049978
Melara, R. D., Marks, L. E., & Potts, B. C. (1993). Primacy of Dimensions in Color Perception. Journal of Experimental Psychology: Human Perception and Performance, 19(5). https://doi.org/10.1037/0096-1523.19.5.1082
Melara, R. D., Marks, L. E., & Potts, B. C. (1993). Early-Holistic Processing or Dimensional Similarity? Journal of Experimental Psychology: Human Perception and Performance, 19(5). https://doi.org/10.1037/0096-1523.19.5.1114
Marks, L. E. (1993). Contextual Processing of Multidimensional and Unidimensional Auditory Stimuli. Journal of Experimental Psychology: Human Perception and Performance, 19(2). https://doi.org/10.1037/0096-1523.19.2.227
Marks, L. E. (1993). Quantifying, Valuing, Choosing. Behavioral and Brain Sciences, 16(1). https://doi.org/10.1017/s0140525x00029447
Algom, D., Marks, L. E., & Cain, W. S. (1993). Memory Psychophysics for Chemosensation: Perceptual and Mental Mixtures of Odor and Taste. Chemical Senses, 18(2). https://doi.org/10.1093/chemse/18.2.151
Rankin, K. M., & Marks, L. E. (1992). Effects of Context on Sweet and Bitter Tastes: Unrelated to Sensitivity to Prop (6-Npropylthiouracil). Perception & Psychophysics, 52(5). https://doi.org/10.3758/bf03206709
Marks, L. E. (1992). The Perplexing Plurality of Psychophysical Processes. Behavioral and Brain Sciences, 15(3). https://doi.org/10.1017/s0140525x00070126
Marks, L. E. (1992). Smell and Taste in Health and Disease. Thomas V. Getchell , Linda M. Bartoshuk , Richard L. Doty , James B. Snow, Jr. The Quarterly Review of Biology, 67(3). https://doi.org/10.1086/417762
Marks, L. E. (1992). The Contingency of Perceptual Processing: Context Modifies Equal-Loudness Relations. Psychological Science, 3(5). https://doi.org/10.1111/j.1467-9280.1992.tb00674.x
Melara, R. D., Marks, L. E., & Yamagishi, N. (1992). Selective Attention to Loudness, Ignoring Pitch. The Journal of the Acoustical Society of America, 91(4_Supplement). https://doi.org/10.1121/1.403335
Marks, L. E. (1992). The Slippery Context Effect in Psychophysics: Intensive, Extensive, and Qualitative Continua. Perception & Psychophysics, 51(2). https://doi.org/10.3758/bf03212243
Melara, R. D., Marks, L. E., & Lesko, K. E. (1992). Optional Processes in Similarity Judgments. Perception & Psychophysics, 51(2). https://doi.org/10.3758/bf03212237
Marks, L. E. (1992). 3 "What Thin Partitions Sense from Thought Divide": Toward a New Cognitive Psychophysics11preparation of This Chapter Was Supported in Part by Grant Dc-00818 from the National Institutes of Health. I Thank Daniel Algom and Bonnie Potts for Comments on an Earlier Version. Please Direct Correspondence to Lawrence E. Marks, John B. Pierce Laboratory, 290 Congress Avenue, New Haven, Ct 06519. In Psychophysical Approaches to Cognition (pp. 115-186). https://doi.org/10.1016/s0166-4115(08)61779-3
Marks, L. E., Borg, G., & Westerlund, J. (1992). Differences in Taste Perception Assessed by Magnitude Matching and by Category-Ratio Scaling. Chemical Senses, 17(5). https://doi.org/10.1093/chemse/17.5.493
Marks, L. E., & Warner, E. (1991). Slippery Context Effect and Critical Bands. Journal of Experimental Psychology: Human Perception and Performance, 17(4). https://doi.org/10.1037/0096-1523.17.4.986
Algom, D., Marks, L. E., & Wiesenfeld, D. (1991). Tapping the Social Psychology of Psychophysical Experiments: Mode of Responding Does Not Alter Statistical Properties of Magnitude Estimates. Bulletin of the Psychonomic Society, 29(3). https://doi.org/10.3758/bf03342685
Marks, L. E. (1991). Reliability of Magnitude Matching. Perception & Psychophysics, 49(1). https://doi.org/10.3758/bf03211613
Marks, L. E., Algom, D., & Benoit, J.-P. (1991). Dichotic Summation of Loudness with Small Frequency Separations. Bulletin of the Psychonomic Society, 29(1). https://doi.org/10.3758/bf03334771
Rankin, K. M., & Marks, L. E. (1991). Differential Context Effects in Taste Perception. Chemical Senses, 16(6). https://doi.org/10.1093/chemse/16.6.617
Algom, D., & Marks, L. E. (1990). Range and Regression, Loudness Scales, and Loudness Processing: Toward a Context-Bound Psychophysics. Journal of Experimental Psychology: Human Perception and Performance, 16(4). https://doi.org/10.1037/0096-1523.16.4.706
Marks, L. E. (1990). Synesthesia. A Union of the Senses by Richard E. Cytowic, Springer-Verlag, 1989. Dm 148.00/$95.00 (Xiv + 354 Pages) Isbn 0 387 96807 5. Trends in Neurosciences, 13(10). https://doi.org/10.1016/0166-2236(90)90130-3
Melara, R. D., & Marks, L. E. (1990). Processes Underlying Dimensional Interactions: Correspondences between Linguistic and Nonlinguistic Dimensions. Memory & Cognition, 18(5). https://doi.org/10.3758/bf03198481
Melara, R. D., & Marks, L. E. (1990). Hard Andsoft Interacting Dimensions: Differential Effects of Dual Context on Classification. Perception & Psychophysics, 47(4). https://doi.org/10.3758/bf03210870
Melara, R. D., & Marks, L. E. (1990). Dimensional Interactions in Language Processing: Investigating Directions and Levels of Crosstalk. Journal of Experimental Psychology: Learning, Memory, and Cognition, 16(4). https://doi.org/10.1037/0278-7393.16.4.539
Melara, R. D., & Marks, L. E. (1990). Perceptual Primacy of Dimensions: Support for a Model of Dimensional Interaction. Journal of Experimental Psychology: Human Perception and Performance, 16(2). https://doi.org/10.1037/0096-1523.16.2.398
Melara, R. D., & Marks, L. E. (1990). Interaction among Auditory Dimensions: Timbre, Pitch, and Loudness. Perception & Psychophysics, 48(2). https://doi.org/10.3758/bf03207084
Marks, L. E. (1989). Lasker Award Often Prologue to Nobel Prize. JAMA, 262(13). https://doi.org/10.1001/jama.1989.03430130010004
Marks, L. E. (1989). On Cross-Modal Similarity: The Perceptual Structure of Pitch, Loudness, and Brightness. Journal of Experimental Psychology: Human Perception and Performance, 15(3). https://doi.org/10.1037/0096-1523.15.3.586
Marks, L. E. (1989). G and S Go Fishing. Behavioral and Brain Sciences, 12(2). https://doi.org/10.1017/s0140525x00048706
Algom, D., & Marks, L. E. (1989). Memory Psychophysics for Taste. Bulletin of the Psychonomic Society, 27(3). https://doi.org/10.3758/bf03334600
Marks, L. E. (1989). For Hedgehogs and Foxes: Individual Differences in the Perception of Cross-Modal Similarity. In Psychophysics in Action (pp. 55-65). https://doi.org/10.1007/978-3-642-74382-5_5
Marks, L. E. (1988). Magnitude Estimation and Sensory Matching. Perception & Psychophysics, 43(6). https://doi.org/10.3758/bf03207739
Bartoshuk, L. M., Rifkin, B., Marks, L. E., & Hooper, J. E. (1988). Bitterness of Kcl and Benzoate: Related to Genetic Status for Sensitivity to Ptc/Prop. Chemical Senses, 13(4). https://doi.org/10.1093/chemse/13.4.517
Marks, L. E., Stevens, J. C., Bartoshuk, L. M., Gent, J. F., Rifkin, B., & Stone, V. K. (1988). Magnitude-Matching: The Measurement of Taste and Smell. Chemical Senses, 13(1). https://doi.org/10.1093/chemse/13.1.63
Marks, L. E. (1987). On Cross-Modal Similarity: Auditory-Visual Interactions in Speeded Discrimination. Journal of Experimental Psychology: Human Perception and Performance, 13(3). https://doi.org/10.1037/0096-1523.13.3.384
Marks, L. E. (1987). On Cross-Modal Similarity: Perceiving Temporal Patterns by Hearing, Touch, and Vision. Perception & Psychophysics, 42(3). https://doi.org/10.3758/bf03203076
Marks, L. E. (1987). Binaural Versus Monaural Loudness: Supersummation of Tone Partially Masked by Noise. The Journal of the Acoustical Society of America, 81(1). https://doi.org/10.1121/1.395020
Marks, L. E. (1987). Psychophysics Cum Mathematics. Contemporary Psychology: A Journal of Reviews, 32(1). https://doi.org/10.1037/026645
Marks, L. E., Hammeal, R. J., Bornstein, M. H., & Smith, L. B. (1987). Perceiving Similarity and Comprehending Metaphor. Monographs of the Society for Research in Child Development, 52(1). https://doi.org/10.2307/1166084
Marks, L. E., Szczesiul, R., & Ohlott, P. (1986). On the Cross-Modal Perception of Intensity. Journal of Experimental Psychology: Human Perception and Performance, 12(4). https://doi.org/10.1037/0096-1523.12.4.517
Kauschansky, A., Seyler, L. E., Marks, L. E., Cain, W. S., & Genel, M. (1986). Familial Kallmann's Syndrome with Autosomal Dominant Inheritance, Variable Gonadotropin Deficiency and Subtle Color Vision Defects. International Journal of Adolescent Medicine and Health, 2(2). https://doi.org/10.1515/ijamh.1986.2.2.81
Marks, L. E. (1986). Cognitive Science and the Pragmatics of Behavior. Behavioral and Brain Sciences, 9(1). https://doi.org/10.1017/s0140525x00021907
Bartoshuk, L. M., Rifkin, B., Marks, L. E., & Bars, P. (1986). Taste and Aging. Journal of gerontology, 41(1). https://doi.org/10.1093/geronj/41.1.51
Marks, L. E. (1986). Measuring Individual Differences by Cross-Modality Comparison. In The Perception of Exertion in Physical Work (pp. 15-26). https://doi.org/10.1007/978-1-349-08946-8_2
Marks, L. E. (1985). Toward a Psychophysics of Intention. Behavioral and Brain Sciences, 8(4). https://doi.org/10.1017/s0140525x00045003
Algom, D., & Marks, L. E. (1984). Individual Differences in Loudness Processing and Loudness Scales. Journal of Experimental Psychology: General, 113(4). https://doi.org/10.1037/0096-3445.113.4.571
Marks, L. E. (1984). Synesthesia and the Arts. In Cognitive Processes in the Perception of Art (pp. 427-447). https://doi.org/10.1016/s0166-4115(08)62362-6
Marks, L. E. (1983). "Minor" Senses of "Major" Importance. Contemporary Psychology: A Journal of Reviews, 28(10). https://doi.org/10.1037/021633
Marks, L. E., Borg, G., & Ljunggren, G. (1983). Individual Differences in Perceived Exertion Assessed by Two New Methods. Perception & Psychophysics, 34(3). https://doi.org/10.3758/bf03202957
Alexander, B., & Marks, L. E. (1983). Aesthetic Preference and Resemblance of Viewer's Personality to Paintings. Bulletin of the Psychonomic Society, 21(5). https://doi.org/10.3758/bf03329987
Marks, L. E. (1983). Similarities and Differences among the Senses. International Journal of Neuroscience, 19(1-4). https://doi.org/10.3109/00207458309148640
Borg, G. A. V., & Marks, L. E. (1983). Twelve Meanings of the Measure Constant in Psychophysical Power Functions. Bulletin of the Psychonomic Society, 21(1). https://doi.org/10.3758/bf03329958
Marks, L. E. (1983). Categories of Perceptual Experience: A Psychophysicist Peruses Synesthetic Metaphors. In Modern Issues in Perception (pp. 336-353). https://doi.org/10.1016/s0166-4115(08)62070-1
Girvin, J. P., Marks, L. E., Antunes, J. L., Quest, D. O., O'Keefe, M. D., Ning, P., & Dobelle, W. H. (1982). Electrocutaneous Stimulation L the Effects of Stimulus Parameters on Absolute Threshold. Perception & Psychophysics, 32(6). https://doi.org/10.3758/bf03204205
Marks, L. E., Girvin, J. P., O'Keefe, M. D., Ning, P., Quest, D. O., Antunes, J. L., & Dobelle, W. H. (1982). Electrocutaneous Stimulation Iii. The Perception of Temporal Order. Perception & Psychophysics, 32(6). https://doi.org/10.3758/bf03204207
Marks, L. E., Girvin, J. P., Quest, D. O., Antunes, J. L., Ning, P., O'Keefe, M. D., & Dobelle, W. H. (1982). Electrocutaneous Stimulation Ii. The Estimation of Distance between Two Points. Perception & Psychophysics, 32(6). https://doi.org/10.3758/bf03204206
Gray, L., Stevens, J. C., & Marks, L. E. (1982). Thermal Stimulus Thresholds: Sources of Variability. Physiology & Behavior, 29(2). https://doi.org/10.1016/0031-9384(82)90026-9
Marks, L. E. (1982). Bright Sneezes and Dark Coughs, Loud Sunlight and Soft Moonlight. Journal of Experimental Psychology: Human Perception and Performance, 8(2). https://doi.org/10.1037/0096-1523.8.2.177
Marks, L. E. (1982). Synesthetic Perception and Poetic Metaphor. Journal of Experimental Psychology: Human Perception and Performance, 8(1). https://doi.org/10.1037/0096-1523.8.1.15
Marks, L. E. (1981). What (Good) Are Scales of Sensation? Behavioral and Brain Sciences, 4(2). https://doi.org/10.1017/s0140525x00008396
Marks, L. E. (1980). Binaural Summation of Loudness: Noise and Two-Tone Complexes. Perception & Psychophysics, 27(6). https://doi.org/10.3758/bf03198676
Stevens, J. C., & Marks, L. E. (1980). Cross-Modality Matching Functions Generated by Magnitude Estimation. Perception & Psychophysics, 27(5). https://doi.org/10.3758/bf03204456
Marks, L. E. (1980). Psychophysical Judgment: Wundt's Theory Revisited. Psychological Research, 42(1-2). https://doi.org/10.1007/bf00308699
Marks, L. E., & Stevens, J. C. (1980). Measuring Sensation in the Aged. In Aging in the 1980s: Psychological Issues. (pp. 592-598). https://doi.org/10.1037/10050-042
Marks, L. E., & Bartoshuk, L. M. (1979). Ratio Scaling of Taste Intensity by a Matching Procedure. Perception & Psychophysics, 26(5). https://doi.org/10.3758/bf03204157
Marks, L. E. (1979). Sensory and Cognitive Factors in Judgments of Loudness. Journal of Experimental Psychology: Human Perception and Performance, 5(3). https://doi.org/10.1037/0096-1523.5.3.426
Marks, L. E. (1979). Summation of Vibrotactile Intensity: An Analog to Auditory Critical Bands? Sensory processes, 3(2). https://app.dimensions.ai/details/publication/pub.1078664232
Marks, L. E. (1979). Invariance, Richness, Recoding. Behavioral and Brain Sciences, 2(2). https://doi.org/10.1017/s0140525x00062403
Marks, L. E. (1979). A Theory of Loudness and Loudness Judgments. Psychological Review, 86(3). https://doi.org/10.1037/0033-295x.86.3.256
Stevens, J. C., & Marks, L. E. (1979). Spatial Summation of Cold. Physiology & Behavior, 22(3). https://doi.org/10.1016/0031-9384(79)90023-4
Marks, L. E. (1978). A Critique of Dawson and Miller's "Inverse Attribute Functions and the Proposed Modifications of the Power Law". Perception & Psychophysics, 24(6). https://doi.org/10.3758/bf03198785
Marks, L. E. (1978). Mental Measurement and the Psychophysics of Sensory Processes. Annals of the New York Academy of Sciences, 309(1). https://doi.org/10.1111/j.1749-6632.1978.tb29438.x
Marks, L. E. (1978). Does the Brain Mind? Behavioral and Brain Sciences, 1(3). https://doi.org/10.1017/s0140525x00075336
Marks, L. E. (1978). Binaural Summation of the Loudness of Pure Tones. The Journal of the Acoustical Society of America, 64(1). https://doi.org/10.1121/1.381976
Marks, L. E. (1978). 1 Introduction. In The Unity of the Senses (pp. 1-9). https://doi.org/10.1016/b978-0-12-472960-5.50006-8
Marks, L. E. (1978). 6 the Unity of the Senses. In The Unity of the Senses (pp. 181-192). https://doi.org/10.1016/b978-0-12-472960-5.50011-1
Marks, L. E. (1978). 4 the Doctrine of Common Psychophysical Properties. In The Unity of the Senses (pp. 105-143). https://doi.org/10.1016/b978-0-12-472960-5.50009-3
Marks, L. E. (1978). 2 the Doctrine of Equivalent Information. In The Unity of the Senses (pp. 11-48). https://doi.org/10.1016/b978-0-12-472960-5.50007-x
Marks, L. E. (1978). Chapter 9 Multimodal Perception**Preparation of This Chapter Was Supported, in Part, by Grant Es-00354 from the National Institutes of Health. The Review of the Literature for This Chapter Was Completed in 1975. In Perceptual Coding (pp. 321-339). https://doi.org/10.1016/b978-0-12-161908-4.50015-2
Marks, L. E. (1978). 7 Sound Symbolism in Poetry. In The Unity of the Senses (pp. 193-209). https://doi.org/10.1016/b978-0-12-472960-5.50012-3
Marks, L. E. (1978). 3 the Doctrine of Analogous Sensory Attributes and Qualities. In The Unity of the Senses (pp. 49-103). https://doi.org/10.1016/b978-0-12-472960-5.50008-1
Marks, L. E. (1978). 8 Synesthetic Metaphor in Poetry. In The Unity of the Senses (pp. 211-255). https://doi.org/10.1016/b978-0-12-472960-5.50013-5
Marks, L. E. (1978). 5 the Doctrine of Neural Correspondences. In The Unity of the Senses (pp. 145-179). https://doi.org/10.1016/b978-0-12-472960-5.50010-x
Marks, L. E. (1977). Sensory Processes. Optometry and Vision Science, 54(10). https://doi.org/10.1097/00006324-197710000-00029
Marks, L. E. (1977). Relative Sensitivity and Possible Psychophysical Functions. Sensory processes, 1(4). https://app.dimensions.ai/details/publication/pub.1078021276
Marks, L. E., Stevens, J. C., & Tepper, S. J. (1976). Interaction of Spatial and Temporal Summation in the Warmth Sense. Sensory processes, 1(1). https://app.dimensions.ai/details/publication/pub.1074426292
Aylor, D. E., & Marks, L. E. (1976). Perception of Noise Transmitted through Barriers. The Journal of the Acoustical Society of America, 59(2). https://doi.org/10.1121/1.380876
Bartoshuk, L. M., Cain, W. S., Cleveland, C. T., Marks, L. E., Stevens, J. C., & Stolwijk, J. A. J. (1975). Msg-Reply. JAMA, 233(3). https://doi.org/10.1001/jama.1975.03260030014004
Sekuler, R. W., & Marks, L. E. (1975). Sensory Processes: The New Psychophysics. The American Journal of Psychology, 88(2). https://doi.org/10.2307/1421606
Marks, L. E. (1975). On Colored-Hearing Synesthesia: Cross-Modal Translations of Sensory Dimensions. Psychological Bulletin, 82(3). https://doi.org/10.1037/0033-2909.82.3.303
Taus, R. H., Stevens, J. C., & Marks, L. E. (1975). Spatial Localization of Warmth. Perception & Psychophysics, 17(2). https://doi.org/10.3758/bf03203885
Marks, L. E. (1974). Blue-Sensitive Cones Can Mediate Brightness. Vision Research, 14(12). https://doi.org/10.1016/0042-6989(74)90029-7
Stevens, J. C., Marks, L. E., & Simonson, D. C. (1974). Regional Sensitivity and Spatial Summation in the Warmth Sense. Physiology & Behavior, 13(6). https://doi.org/10.1016/0031-9384(74)90269-8
Bartoshuk, L. M., Cain, W. S., Cleveland, C. T., Grossman, L. S., Marks, L. E., Stevens, J. C., & Stolwijk, J. A. J. (1974). Saltiness of Monosodium Glutamate and Sodium Intake. JAMA, 230(5). https://doi.org/10.1001/jama.1974.03240050018008
Marks, L. E., & Bornstein, M. H. (1974). Spectral Sensitivity of the Modulation-Sensitive Mechanism of Vision. Vision Research, 14(8). https://doi.org/10.1016/0042-6989(74)90062-5
Marks, L. E. (1974). On Associations of Light and Sound: The Mediation of Brightness, Pitch, and Loudness. The American Journal of Psychology, 87(1-2). https://doi.org/10.2307/1422011
Marks, L. E. (1974). On Scales of Sensation: Prolegomena to Any Future Psychophysics That Will Be Able to Come Forth as Science. Perception & Psychophysics, 16(2). https://doi.org/10.3758/bf03203956
Marks, L. E., & Gonzalez, R. R. (1974). Skin Temperature Modifies the Pleasantness of Thermal Stimuli. Nature, 247(5441). https://doi.org/10.1038/247473a0
Marks, L. E. (1974). Spatial Summation in the Warmth Sense. In Sensation and Measurement (pp. 369-378). https://doi.org/10.1007/978-94-010-2245-3_36
Marks, L. E., & Stevens, J. C. (1973). Temporal Summation Related to the Nature of the Proximal Stimulus for the Warmth Sense. Perception & Psychophysics, 14(3). https://doi.org/10.3758/bf03211199
Marks, L. E., & Stevens, J. C. (1973). Spatial Summation of Warmth: Influence of Duration and Configuration of the Stimulus. The American Journal of Psychology, 86(2). https://doi.org/10.2307/1421436
Stevens, J. C., Okulicz, W. C., & Marks, L. E. (1973). Temporal Summation at the Warmth Threshold. Perception & Psychophysics, 14(2). https://doi.org/10.3758/bf03212396
Bornstein, M. H., Marks, L. E., & Pierce, J. B. (1973). Studies of Spectral Sensitivity as Measured by a Procedure of Flicker Threshold*. Optometry and Vision Science, 50(5). https://doi.org/10.1097/00006324-197305000-00002
Marks, L. E., & Bornstein, M. H. (1973). Spectral Sensitivity by Constant Cff: Effect of Chromatic Adaptation. Journal of the Optical Society of America, 63(2). https://doi.org/10.1364/josa.63.000220
Marks, L. E. (1973). Brightness and Equivalent Intensity of Intrinsic Light. Vision Research, 13(2). https://doi.org/10.1016/0042-6989(73)90114-4
Bornstein, M. H., & Marks, L. E. (1972). Photopic Luminosity Measured by the Method of Critical Frequency. Vision Research, 12(12). https://doi.org/10.1016/0042-6989(72)90056-9
Stevens, J. C., & Marks, L. E. (1972). Brightness Function: Role of the Pupil. Perception & Psychophysics, 11(6). https://doi.org/10.3758/bf03206277
Marks, L. E., & Stevens, J. C. (1972). Perceived Cold and Skin Temperature as Functions of Stimulation Level and Duration. The American Journal of Psychology, 85(3). https://doi.org/10.2307/1420841
Marks, L. E. (1972). Visual Brightness: Some Applications of a Model. Vision Research, 12(8). https://doi.org/10.1016/0042-6989(72)90187-3
Marks, L. E., & Cain, W. S. (1972). Perception of Intervals and Magnitudes for Three Prothetic Continua. Journal of Experimental Psychology, 94(1). https://doi.org/10.1037/h0032746
Marks, L. E. (1971). Spatial Summation in Relation to the Dynamics of Warmth Sensation. International Journal of Biometeorology, 15(2-4). https://doi.org/10.1007/bf01803882
Stevens, J. C., & Marks, L. E. (1971). Spatial Summation and the Dynamics of Warmth Sensation. Perception & Psychophysics, 9(5). https://doi.org/10.3758/bf03210236
Marks, L. E. (1971). Brightness and Retinal Locus: Effects of Target Size and Spectral Composition. Perception & Psychophysics, 9(1). https://doi.org/10.3758/bf03213022
Marks, L. E. (1970). Apparent Depth of Modulation as a Function of Frequency and Amplitude of Temporal Modulations of Luminance. Journal of the Optical Society of America, 60(7). https://doi.org/10.1364/josa.60.000970
Bothe, G. G., & Marks, L. E. (1970). Absolute Sensitivity to White Noise under Auxiliary Visual Stimulation1. Perception & Psychophysics, 8(3). https://doi.org/10.3758/bf03210200
Stevens, J. C., Marks, L. E., & Gagge, A. P. (1969). The Quantitative Assessment of Thermal Discomfort. Environmental Research, 2(3). https://doi.org/10.1016/0013-9351(69)90035-8
Marks, L. E. (1968). Stimulus-Range, Number of Categories, and Form of the Category-Scale. The American Journal of Psychology, 81(4). https://doi.org/10.2307/1421051
Marks, L. E. (1968). Scaling of Grammaticalness of Self-Embedded English Sentences. Journal of Verbal Learning and Verbal Behavior, 7(5). https://doi.org/10.1016/s0022-5371(68)80106-9
Marks, L. E., & Stevens, J. C. (1968). The Form of the Psychophysical Function near Threshold. Perception & Psychophysics, 4(5). https://doi.org/10.3758/bf03210523
Marks, L. E., & Stevens, J. C. (1968). Perceived Warmth and Skin Temperature as Functions of the Duration and Level of Thermal Irradiation! Perception & Psychophysics, 4(4). https://doi.org/10.3758/bf03206306
Adair, E. R., Stevens, J. C., & Marks, L. E. (1968). Thermally Induced Pain, the Dol Scale, and the Psychophysical Power Law. The American Journal of Psychology, 81(2). https://doi.org/10.2307/1421259
Marks, L. E. (1968). Brightness as a Function of Retinal Locus in the Light-Adapted Eye. Vision Research, 8(5). https://doi.org/10.1016/0042-6989(68)90093-x
Stevens, J. C., & Marks, L. E. (1967). Apparent Warmth as a Function of Thermal Irradiation. Perception & Psychophysics, 2(12). https://doi.org/10.3758/bf03210279
Marks, L. E. (1967). Some Structural and Sequential Factors in the Processing of Sentences. Journal of Verbal Learning and Verbal Behavior, 6(5). https://doi.org/10.1016/s0022-5371(67)80075-6
Marks, L. E. (1967). Judgments of Grammaticalness of Some English Sentences and Semi-Sentences. The American Journal of Psychology, 80(2). https://doi.org/10.2307/1420977
Marks, L. E., & Slawson†, A. W. (1966). Direct Test of the Power Function for Loudness. Science, 154(3752). https://doi.org/10.1126/science.154.3752.1036
Marks, L. E. (1966). Brightness as a Function of Retinal Locus. Perception & Psychophysics, 1(10). https://doi.org/10.3758/bf03215799
Marks, L. E., & Stevens, J. C. (1966). Individual Brightness Functions. Perception & Psychophysics, 1(1). https://doi.org/10.3758/bf03207815
Stevens, J. C., & Marks, L. E. (1965). Cross-Modality Matching of Brightness and Loudness. Proceedings of the National Academy of Sciences, 54(2). https://doi.org/10.1073/pnas.54.2.407
Marks, L. E., & Miller, G. A. (1964). The Role of Semantic and Syntactic Constraints in the Memorization of English Sentences. Journal of Verbal Learning and Verbal Behavior, 3(1). https://doi.org/10.1016/s0022-5371(64)80052-9