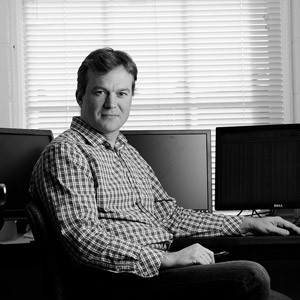 Fellow
The John B. Pierce Laboratory
Associate Professor of Neuroscience
Yale School of Medicine
Laboratory:
Olfactory Behavioral Neuroscience
E mail:
jverhagen@jbpierce.org
Telephone: 203) 562-9901,
EXT. 253
Education
M.Sc., University of Amsterdam, medical biology, 1996
Ph.D., University of Delaware, psychology/neuroscience, 2001
Post-doctoral collaborators:
Dr. Edmund Rolls, University of Oxford, 2000-2004
Dr. Matt Wachowiak, Boston University, 2004-2006
Biographical Sketch
Dr. Verhagen grew up in the Netherlands and completed his master's in medical biology in the Department of Biology at the University of Amsterdam. He graduated from the University of Delaware in 2000 with a PhD in neuroscience/psychology, under the mentor-ship of Dr. Tom Scott. He did a post-doctoral fellowship for four years in Oxford, United Kingdom, with Dr. Edmund Rolls. From 2005 to 2006 he worked as a post-doctoral fellow in the laboratory of Dr. Matt Wachowiak.  Dr. Verhagen joined the John B. Pierce Laboratory in January, 2007.
Recent Publications
Rahman, M. T., & Verhagen, J. V. (2023). Implementing Quantitative Declarations of Authorship Contribution: A Call to Action. Journal of Scientometric Research, 12(2). https://doi.org/10.5530/jscires.12.2.039
James, S., Sanggaard, S., Akif, A., Mishra, S. K., Sanganahalli, B. G., Blumenfeld, H., Verhagen, J. V., Hyder, F., & Herman, P. (2023). Spatiotemporal Features of Neurovascular (Un)Coupling with Stimulus-Induced Activity and Hypercapnia Challenge in Cerebral Cortex and Olfactory Bulb. Journal of cerebral blood flow and metabolism : official journal of the International Society of Cerebral Blood Flow and Metabolism. https://doi.org/10.1177/0271678×231183887
Verhagen, J. V., Baker, K. L., Vasan, G., Pieribone, V. A., & Rolls, E. T. (2023). Odor Encoding by Signals in the Olfactory Bulb. Journal of Neurophysiology, 129(2). https://doi.org/10.1152/jn.00449.2022
Mishra, S. K., Herman, P., Crair, M., Constable, R. T., Walsh, J. J., Akif, A., Verhagen, J. V., & Hyder, F. (2022). Fluorescently-Tagged Magnetic Protein Nanoparticles for High-Resolution Optical and Ultra-High Field Magnetic Resonance Dual-Modal Cerebral Angiography. Nanoscale, 14(47). https://doi.org/10.1039/d2nr04878g
Gumaste, A., Baker, K. L., Izydorczak, M., True, A. C., Vasan, G., Crimaldi, J. P., & Verhagen, J. V. (2022). Behavioral Discrimination and Olfactory Bulb Encoding of Odor Plume Intermittency. bioRxiv. https://doi.org/10.1101/2022.12.01.518694
Sanganahalli, B. G., Thompson, G. J., Parent, M., Verhagen, J. V., Blumenfeld, H., Herman, P., & Hyder, F. (2022). Thalamic Activations in Rat Brain by Fmri During Tactile (Forepaw, Whisker) and Non-Tactile (Visual, Olfactory) Sensory Stimulations. PLoS ONE, 17(5). https://doi.org/10.1371/journal.pone.0267916
Crimaldi, J., Lei, H., Schaefer, A., Schmuker, M., Smith, B. H., True, A. C., Verhagen, J. V., & Victor, J. D. (2021). Correction To: Active Sensing in a Dynamic Olfactory World. Journal of Computational Neuroscience, 50(1). https://doi.org/10.1007/s10827-021-00803-7
Crimaldi, J., Lei, H., Schaefer, A., Schmuker, M., Smith, B. H., True, A. C., Verhagen, J. V., & Victor, J. D. (2021). Active Sensing in a Dynamic Olfactory World. Journal of Computational Neuroscience, 50(1). https://doi.org/10.1007/s10827-021-00798-1
Baker, K. L., Izydorczak, M., Jackson, R., & Verhagen, J. V. (2020). An Automated Sensitive Approach for Measuring Whole Gut Transit Time. Neurogastroenterology & Motility, 32(9). https://doi.org/10.1111/nmo.13894
Sanganahalli, B. G., Baker, K. L., Thompson, G. J., Herman, P., Shepherd, G. M., Verhagen, J. V., & Hyder, F. (2020). Orthonasal Versus Retronasal Glomerular Activity in Rat Olfactory Bulb by Fmri. NeuroImage, 212. https://doi.org/10.1016/j.neuroimage.2020.116664
Gumaste, A., Coronas-Samano, G., Hengenius, J., Axman, R., Connor, E. G., Baker, K. L., Ermentrout, B., Crimaldi, J. P., & Verhagen, J. V. (2020). A Comparison between Mouse, in Silico, and Robot Odor Plume Navigation Reveals Advantages of Mouse Odor-Tracking. eNeuro, 7(1). https://doi.org/10.1523/eneuro.0212-19.2019
Baker, K. L., Vasan, G., Gumaste, A., Pieribone, V. A., & Verhagen, J. V. (2019). Spatiotemporal Dynamics of Odor Responses in the Lateral and Dorsal Olfactory Bulb. PLOS Biology, 17(9). https://doi.org/10.1371/journal.pbio.3000409
Baker, K. L., Dickinson, M., Findley, T. M., Gire, D. H., Louis, M., Suver, M. P., Verhagen, J. V., Nagel, K. I., & Smear, M. C. (2018). Algorithms for Olfactory Search across Species. The Journal of Neuroscience, 38(44). https://doi.org/10.1523/jneurosci.1668-18.2018
Thompson, G. J., Sanganahalli, B. G., Baker, K. L., Herman, P., Shepherd, G. M., Verhagen, J. V., & Hyder, F. (2018). Spontaneous Activity Forms a Foundation for Odor-Evoked Activation Maps in the Rat Olfactory Bulb. NeuroImage, 172. https://doi.org/10.1016/j.neuroimage.2018.01.051
Short, S. M., Morse, T. M., McTavish, T. S., Shepherd, G. M., & Verhagen, J. V. (2016). Respiration Gates Sensory Input Responses in the Mitral Cell Layer of the Olfactory Bulb. PLoS ONE, 11(12). https://doi.org/10.1371/journal.pone.0168356
Coronas-Samano, G., Baker, K. L., Tan, W. J. T., Ivanova, A. V., & Verhagen, J. V. (2016). Fus1 Ko Mouse as a Model of Oxidative Stress-Mediated Sporadic Alzheimer's Disease: Circadian Disruption and Long-Term Spatial and Olfactory Memory Impairments. Frontiers in Aging Neuroscience, 8. https://doi.org/10.3389/fnagi.2016.00268
Coronas-Samano, G., Ivanova, A. V., & Verhagen, J. V. (2016). The Habituation/Cross-Habituation Test Revisited: Guidance from Sniffing and Video Tracking. Neural Plasticity, 2016. https://doi.org/10.1155/2016/9131284
Sanganahalli, B. G., Rebello, M. R., Herman, P., Papademetris, X., Shepherd, G. M., Verhagen, J. V., & Hyder, F. (2015). Comparison of Glomerular Activity Patterns by Fmri and Wide-Field Calcium Imaging: Implications for Principles Underlying Odor Mapping. NeuroImage, 126. https://doi.org/10.1016/j.neuroimage.2015.11.048
Verhagen, J. V. (2015). A Role for Lung Retention in the Sense of Retronasal Smell. Chemosensory Perception, 8(2). https://doi.org/10.1007/s12078-015-9181-z
Rebello, M. R., Kandukuru, P., & Verhagen, J. V. (2015). Direct Behavioral and Neurophysiological Evidence for Retronasal Olfaction in Mice. PLoS ONE, 10(2). https://doi.org/10.1371/journal.pone.0117218
Rebello, M. R., McTavish, T. S., Willhite, D. C., Short, S. M., Shepherd, G. M., & Verhagen, J. V. (2014). Perception of Odors Linked to Precise Timing in the Olfactory System. PLOS Biology, 12(12). https://doi.org/10.1371/journal.pbio.1002021
Gautam, S. H., Short, S. M., & Verhagen, J. V. (2014). Retronasal Odor Concentration Coding in Glomeruli of the Rat Olfactory Bulb. Frontiers in Integrative Neuroscience, 8. https://doi.org/10.3389/fnint.2014.00081
Cenier, T., McGann, J. P., Tsuno, Y., Verhagen, J. V., & Wachowiak, M. (2013). Testing the Sorption Hypothesis in Olfaction: A Limited Role for Sniff Strength in Shaping Primary Odor Representations During Behavior. The Journal of Neuroscience, 33(1). https://doi.org/10.1523/jneurosci.4101-12.2013
Gautam, S. H., & Verhagen, J. V. (2012). Direct Behavioral Evidence for Retronasal Olfaction in Rats. PLoS ONE, 7(9). https://doi.org/10.1371/journal.pone.0044781
Gautam, S. H., & Verhagen, J. V. (2012). Retronasal Odor Representations in the Dorsal Olfactory Bulb of Rats. The Journal of Neuroscience, 32(23). https://doi.org/10.1523/jneurosci.1413-12.2012
Gautam, S. H., Rebello, M. R., & Verhagen, J. V. (2012). Taste Quality and Intensity of 100 Stimuli as Reported by Rats: The Taste–Location Association Task. Frontiers in Behavioral Neuroscience, 6. https://doi.org/10.3389/fnbeh.2012.00019
Park, J. H., Platisa, J., Verhagen, J. V., Gautam, S. H., Osman, A., Kim, D., Pieribone, V. A., & Culurciello, E. (2011). Head-Mountable High Speed Camera for Optical Neural Recording. Journal of Neuroscience Methods, 201(2). https://doi.org/10.1016/j.jneumeth.2011.06.024
Gautam, S. H., & Verhagen, J. V. (2010). Evidence That the Sweetness of Odors Depends on Experience in Rats. Chemical Senses, 35(9). https://doi.org/10.1093/chemse/bjq075
Rolls, E. T., Critchley, H. D., Verhagen, J. V., & Kadohisa, M. (2009). The Representation of Information About Taste and Odor in the Orbitofrontal Cortex. Chemosensory Perception, 3(1). https://doi.org/10.1007/s12078-009-9054-4
Wachowiak, M., Wesson, D. W., Pírez, N., Verhagen, J. V., & Carey, R. M. (2009). Low‐Level Mechanisms for Processing Odor Information in the Behaving Animal. Annals of the New York Academy of Sciences, 1170(1). https://doi.org/10.1111/j.1749-6632.2009.04015.x
Park, J. H., Pieribone, V., Kim, D., Verhagen, J. V., von Hehn, C., & Culurciello, E. (2009). High-Speed Fluorescence Imaging System for Freely Moving Animals. 2009 IEEE International Symposium on Circuits and Systems,
Carey, R. M., Verhagen, J. V., Wesson, D. W., Pírez, N., & Wachowiak, M. (2008). Temporal Structure of Receptor Neuron Input to the Olfactory Bulb Imaged in Behaving Rats. Journal of Neurophysiology, 101(2). https://doi.org/10.1152/jn.90902.2008
Wesson, D. W., Verhagen, J. V., & Wachowiak, M. (2008). Why Sniff Fast? The Relationship between Sniff Frequency, Odor Discrimination, and Receptor Neuron Activation in the Rat. Journal of Neurophysiology, 101(2). https://doi.org/10.1152/jn.90981.2008
Park, J. H., Culurciello, E., Kim, D., Verhagen, J. V., Gautam, S. H., & Pieribone, V. (2008). Voltage Sensitive Dye Imaging System for Awake and Freely Moving Animals. 2008 IEEE Biomedical Circuits and Systems Conference,
Wesson, D. W., Carey, R. M., Verhagen, J. V., & Wachowiak, M. (2008). Rapid Encoding and Perception of Novel Odors in the Rat. PLOS Biology, 6(4). https://doi.org/10.1371/journal.pbio.0060082
Verhagen, J. V., & Katz, D. B. (2007). More Time to Taste. Focus on "Variability in Responses and Temporal Coding of Tastants of Similar Quality in the Nucleus of the Solitary Tract of the Rat". Journal of Neurophysiology, 99(2). https://doi.org/10.1152/jn.01285.2007
Verhagen, J. V., Wesson, D. W., Netoff, T. I., White, J. A., & Wachowiak, M. (2007). Sniffing Controls an Adaptive Filter of Sensory Input to the Olfactory Bulb. Nature Neuroscience, 10(5). https://doi.org/10.1038/nn1892
Verhagen, J. V. (2006). The Neurocognitive Bases of Human Multimodal Food Perception: Consciousness. Brain Research Reviews, 53(2). https://doi.org/10.1016/j.brainresrev.2006.09.002
Verhagen, J. V., & Engelen, L. (2006). The Neurocognitive Bases of Human Multimodal Food Perception: Sensory Integration. Neuroscience & Biobehavioral Reviews, 30(5). https://doi.org/10.1016/j.neubiorev.2005.11.003
Kadohisa, M., Rolls, E. T., & Verhagen, J. V. (2005). Neuronal Representations of Stimuli in the Mouth: The Primate Insular Taste Cortex, Orbitofrontal Cortex and Amygdala. Chemical Senses, 30(5). https://doi.org/10.1093/chemse/bji036
Verhagen, J. V., Giza, B. K., & Scott, T. R. (2005). Effect of Amiloride on Gustatory Responses in the Ventroposteromedial Nucleus of the Thalamus in Rats. Journal of Neurophysiology, 93(1). https://doi.org/10.1152/jn.00823.2003
Kadohisa, M., Verhagen, J. V., & Rolls, E. T. (2005). The Primate Amygdala: Neuronal Representations of the Viscosity, Fat Texture, Temperature, Grittiness and Taste of Foods. Neuroscience, 132(1). https://doi.org/10.1016/j.neuroscience.2004.12.005
Verhagen, J. V., Kadohisa, M., & Rolls, E. T. (2004). Primate Insular/Opercular Taste Cortex: Neuronal Representations of the Viscosity, Fat Texture, Grittiness, Temperature, and Taste of Foods. Journal of Neurophysiology, 92(3). https://doi.org/10.1152/jn.00321.2004
Verhagen, J. V., & Scott, T. R. (2004). Artificial Neural Network Analysis of Gustatory Responses in the Thalamic Taste Relay of the Rat. Physiology & Behavior, 80(4). https://doi.org/10.1016/j.physbeh.2003.10.005
Kadohisa, M., Rolls, E. T., & Verhagen, J. V. (2004). Orbitofrontal Cortex: Neuronal Representation of Oral Temperature and Capsaicin in Addition to Taste and Texture. Neuroscience, 127(1). https://doi.org/10.1016/j.neuroscience.2004.04.037
Verhagen, J. V., Wallace, K. J., Collins, S. C., & Scott, T. R. (2003). Quad System Offers Fair Shares to All Authors. Nature, 426(6967). https://doi.org/10.1038/426602a
Rolls, E. T., Verhagen, J. V., & Kadohisa, M. (2003). Representations of the Texture of Food in the Primate Orbitofrontal Cortex: Neurons Responding to Viscosity, Grittiness, and Capsaicin. Journal of Neurophysiology, 90(6). https://doi.org/10.1152/jn.00515.2003
Verhagen, J. V., Rolls, E. T., & Kadohisa, M. (2003). Neurons in the Primate Orbitofrontal Cortex Respond to Fat Texture Independently of Viscosity. Journal of Neurophysiology, 90(3). https://doi.org/10.1152/jn.00320.2003
Verhagen, J. V., Gabbott, P. L., & Rolls, E. T. (2003). A Simple Method for Reconditioning Epoxy-Coated Microelectrodes for Extracellular Single Neuron Recording. Journal of Neuroscience Methods, 123(2). https://doi.org/10.1016/s0165-0270(02)00365-5
Verhagen, J. V., Giza, B. K., & Scott, T. R. (2003). Responses to Taste Stimulation in the Ventroposteromedial Nucleus of the Thalamus in Rats. Journal of Neurophysiology, 89(1). https://doi.org/10.1152/jn.00870.2001
Scott, T. R., & Verhagen, J. V. (2000). Taste as a Factor in the Management of Nutrition. Nutrition, 16(10). https://doi.org/10.1016/s0899-9007(00)00423-8
Scott, T. R., Verhagen, J. V., Giza, B. K., Karádi, Z., & Oomura, Y. (2000). Neural Responses to Msg in Rats and Monkeys. Sensory Neuron, 3(3). https://doi.org/10.1163/156856501750387265
Biewenga, G. P., Dorstijn, M. A., Verhagen, J. V., Haenen, G. R. M. M., & Bast, A. (1996). Reduction of Lipoic Acid by Lipoamide Dehydrogenase. Biochemical Pharmacology, 51(3). https://doi.org/10.1016/0006-2952(95)02124-8
Verhagen, J. V., Haenen, G. R. M. M., & Bast, A. (1996). Nitric Oxide Radical Scavenging by Wines. Journal of Agricultural and Food Chemistry, 44(12). https://doi.org/10.1021/jf960503h