Information about the Supreme Court Decision Dobbs vs Jackson's Women's Health Organization
Seminar recommended by Dean Brown: The Post-Roe Landscape: Understanding Dobbs
These are articles written and shared by our Yale Law professors Linda Greenhouse, Reva Siegel and Priscilla Smith:
This is the decision itself:
Supreme Court Decision Dobbs vs Jackson's Women's Health Organization
---
Dear Colleagues:
As we are all likely aware, President Biden signed legislation on Thursday, June 17, 2021 making Juneteenth a Federal Holiday, Juneteenth National Independence Day. Juneteenth is celebrated annually on the 19th of June to mark the date some of the last of the enslaved people in the Confederacy became free in 1865, despite President Abraham Lincoln signing the Emancipation Proclamation in 1862.  In his speech when signing, Biden said, "This day doesn't just celebrate the past. It calls for action today. I wish all Americans a happy Juneteenth."
We at the Pierce Laboratory applaud the actions of Congress and President Biden in taking this action, and also support President Biden's call for action to today to end racism and other forms of exclusion and discrimination.  We would also like to share the thoughts and insights of Darin Latimore MD, the Chief Diversity Officer, Inginia Genoa MD, Stephen Huot MD from the Yale School of Medicine.  Within their message are also provided important resources about Juneteenth, including history, activities and resources at Yale.  Please see the website link below.
Yale's Juneteenth Message to Colleagues
Nina Stachenfeld
Chair, Diversity Committee
John B. Pierce Laboratory
John Geibel
Director,
John B. Pierce Laboratory
---
To the Community:
We write to express our distress about the killing of George Floyd by the police officers in Minneapolis, followed so soon after by the senseless and shocking killing of Rashard Brooks in Atlanta. We recognize these images evoke a range of raw emotions, including those of shock, anger, sadness and revulsion. The passionate national and local responses by a diverse group of people to these actions are expected given the long and continued pattern of racial injustice in the U.S. We recognize that for many in our communities these recent events in Minneapolis and Atlanta continue the feelings of fear within themselves and those that they love. This fear within our community exists, it is real and we need to support our colleagues, friends and family. Giving of our time and listening with an open mind is necessary to build the more perfect union we all want.
To our employees, as we return to work, please be sure to take the time you need to rest as we cope with this added stress, and to seek help if you need it. At the Pierce Laboratory, we will take this moment to look inward to examine how we can work toward improving our own record of inclusiveness and equality first by listening to our employees. We will ensure that people of color are welcome in the Laboratory and we will take personal responsibility for improving our own environment. We will ensure that discrimination of any form is not tolerated in our institution, and that every person that enters the Pierce Laboratory is valued and respected without exception.
Nina Stachenfeld
Chair, Diversity Committee
John Geibel
Director
---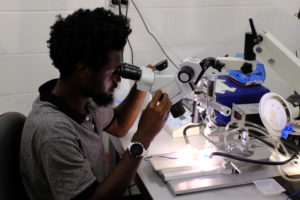 Diversity enriches life.  We learn from those whose experiences, beliefs, and perspectives are different from our own.  As such, Diversity promotes personal growth, challenges stereotyped preconceptions, encourages critical thinking and improves communication with people of varied backgrounds.  All of these lessons are taught best in a richly diverse intellectual and social environment; one that reflects the rich and diverse country and world in which we live.
The Pierce Diversity Committee is charged with advising the Director on issues related to achieving cultural diversity within the Pierce Laboratory.  Areas of purview include but are not limited to: 1) recruitment and retention of underrepresented minority faculty and staff; 2) building a supportive environment in which diversity can thrive and which promotes mutual understanding and tolerance as a condition of academic freedom.
---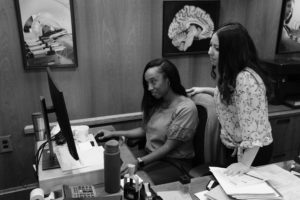 The Pierce Diversity Committee would like to hear from faculty and staff about what we are doing well and how we might improve in our efforts to promote diversity at the Pierce laboratory.  Please send any comments to diversity@jbpierce.org.
The John B. Pierce Diversity Committee
Misha Izydorczak
Nina Stachenfeld (Chair)
Justus Verhagen
---
Information:
How to Notify NIH about a Concern that Sexual Harassment is Affecting an NIH-Funded Activity at a Grantee Institution:
NSF:  Measures to Protect Research Community From Harassment
---
Yale School of Medicine and Yale University Diversity initiatives and programs:
Yale School of Medicine:  Office of the Dean 
Yale Diversity and Inclusion Page
Yale School of Medicine Diversity and Inclusion Page
Committee on the Status of Women in Medicine (SWIM)
Minority Organization for Retention & Expansion (MORE)
Yale University Women Faculty Forum
Upcoming Event:

DiversAbility at Yale
https://day.yale.edu/calendar/upcoming-events/diversity-and-inclusion
Diversity and Culture Calendar of Events
http://calendar.yale.edu/cal/main/showEventList.rdo
For more information on upcoming events, visit the Yale Diversity and Inclusion webpages listed above…
---
Special Events:
Feb 1, 2021 — Stepping Forward: Advancing Opportunity and Equity in the Time of COVID
In the wake of surging efforts to ameliorate systemic inequality, the Community Foundation of Greater New Haven is hosting a panel discussion and a community conversation entitled, "Stepping Forward: Advancing Opportunity and Equity in the Time of COVID". Among the panelists are William Ginsberg, the President and CEO of the Foundation who is also a long-serving John B. Pierce board member and Dr. Marcella Nuñez-Smith, the Foundation's Vice Chair and associate professor of Internal Medicine at Yale School of Medicine. The virtual webinar will take place on February 1, 2021 between 6:30 and 7:30 PM and is open to the public.
For details, visit https://www.cfgnh.org/events/stepping-forward-advancing-opportunity-and-equity-in-the-time-of-covid
January 12, 2021 — Dr. Maysa Akbar, clinical psychologist and assistant clinical professor at Yale School of Medicine, will virtually present her Urban Trauma™ framework on Tuesday, January 12, 3:30 p.m. – 4:45 p.m.  Dr. Akbar will talk about the impact of systemic racism and urban trauma on the health, financial stability, and education of our community.  This webinar is hosted by Women United and offered free of charge by United Way.  For more details on this event see the link below:  https://unitedway.yale.edu/news/dr-maysa-akbar-address-urban-trauma-and-systemic-racism
Dec 4, 2020 — The Pierce Laboratory Screens 'Picture A Scientist'
Picture A Scientist is a 93-minute film that was an official selection of the 2020 Tribeca Film Festival. The film focuses on challenges women face in science and how they have successfully overcome them. The Pierce Laboratory shared this film with the entire laboratory in a private virtual screening. We subsequently met on December 4, 2020 to share our impressions of the film in a lively Town Hall. The event was sponsored by the Pierce Laboratory, and was a joint project of the Pierce Diversity and Climate Committees.  Click here for details on the event.
July 17, 2020 — Dean Darin Latimore, Chief Diversity Officer & Deputy Dean of Diversity, Equity & Inclusion at Yale School of Medicine joined The Pierce Laboratory Town Hall (via Zoom) to discuss racial and gender inequity in our current environment.  Dean Latimore led the discussion in the context of our own Qualtrics Survey addressing climate at the Pierce Laboratory.  Dean Latimore led a lively discussion and offered a few ways forward to think about how we provide the most productive and welcoming climate for all who work at the Pierce Laboratory.
November 22, 2019 — The Pierce Diversity Committee held a full laboratory meeting to update the Pierce Laboratory staff on new rules on Sexual and Gender Based Harassment and NASEM Report.  After the meeting, the Laboratory was treated to home cooked Indian food by three of our Laboratory members.
June 1, 2018 — a symposium commemorating the 100-year anniversary of women at Yale School of Medicine (YSM).
The Yale School of Medicine hosted a symposium commemorating the 100-year anniversary of women at YSM. Sponsored by the Committee on the Status of Women in Medicine (SWIM), the Minority Organization for Retention & Expansion (MORE), and the Dean's Office, this event celebrated the contributions of women faculty and alumnae from the School of Medicine. The symposium featured speakers who discussed the challenges for women in their fields, as well as those encountered on the pathway to finding life-work balance.
Dr. Nina Stachenfeld and Elizabeth Jonas, Co-Chairs of Committee on the Status of Women in Medicine at Yale School of Medicine opened the day.  You can view the day's presentations here:  https://medicine.yale.edu/centuryofwomen/symposium/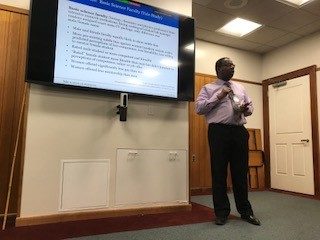 January 25, 2018 —  Darin Latimore MD, Deputy Dean for Diversity and Inclusion and Chief Diversity Officer at the Yale School of Medicine.
Dr. Latimore presented a seminar to all staff on Unconscious Bias.  His interactive and engaging talk helped us understand unconscious bias, gender and race/ethnicity bias, and how the unconscious mind can impact outcomes.  Dr. Latimore offered strategies to mitigate our own bias.