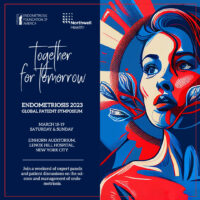 Dr. Nina Stachenfeld and Dr. Lacy Alexander attended the Endometriosis Society's Patient Day at Lenox Hill Hospital in NYC on March 18-19 to share information about their NIH-funded study examining cardiovascular comorbidities associated with endometriosis. The 2-day conference was aimed at patients and addressed topics as wide ranging as patient advocacy to sexual function. Click here for more info:  Endometriosis Foundation of America Patient Day
Drs. Stachenfeld and Alexander had the opportunity to meet leaders in the field, including Tracy Haas, D.O. (Pictured) as well as members and leaders in the Endometriosis Society.
Stachenfeld Quote: "Patient day was an important day to hear physicians, physical therapists and other medical experts discuss symptoms and treatments involved in endometriosis. Also discussed were patients stories and challenges regarding treatment, delays in diagnosis and pain of endometriosis. I am always impressed with the bravery of these patients. We met advocates who have worked hard to get information and funding to help this patient group. Research into endometriosis, which impacts 1 in 10 women in the US and worldwide, is very underfunded"
Alexander Quote: "It was a pleasure to participate in the Endometriosis Foundation of America Patient Day. It was a day of education, sharing of our journies, and hope for the future treatment of this devastating disease. I was particularly struck by how endometriosis impacts all of us and the people that take care of us."
Drs. Stachenfeld and Alexander's ongoing NIH-funded study is described below:


Heart Endometriosis Research (HERstudy) project
Research:
The goal of the HERstudy project is to understand why women with endometriosis are at a greater risk for cardiovascular disease. We examine two interventions: one to target endometriosis symptoms and one to target long term heart disease risk. Our project has the potential to make an impact by identifying clinically relevant treatment options to decrease the cardiovascular disease burden in women with endometriosis. The specific aims of this study are:
1. To determine the effects of estrogen suppression on endothelial function in women with endometriosis.
2. To examine the effects of inflammation on vascular function in women with endometriosis.
3. To determine the effects of synthetic hormone treatments (selective estrogen receptor modulators) and cholesterol-lowering medications (simvastatins) on endothelial dysfunction in women with endometriosis.
This research study is funded by the National Institute of Health and is IRB (Yale) approved. We are examining cardiovascular health in women with endometriosis. We provide free parking, pay gas mileage for those traveling 20 miles or greater one way and provide compensation of $320 for completing the study. Participation requires 3 visits to the Pierce laboratory at Yale School of Medicine in New Haven, CT.
If you are interested in participating in the study, both sites are recruiting. See below for information, or check out the Pierce or Noll (Penn State) Website:
Time Commitment for Participant:
Yale School of Medicine/John B. Pierce Site: Participation requires 3 visits to the Pierce laboratory at Yale School of Medicine in New Haven, CT.
Contact: endoresearch@jbpierce.org
Principal Investigator: Nina Stachenfeld, PhD.
Medical Oversight and Co-Investigator: Hugh S. Taylor, MD
Penn State/Noll Laboratory or Hershey Site: Participation requires 4 visits to the Noll laboratory at Penn State University in State College, PA or at the Clinical Research Center at the Penn State Hershey School of Medicine in Hershey, PA.
Contact: herstudy.endometriosis@gmail.com
Principal Investigator: Lacy Alexander, Ph.D.
Medical Oversight: Arpit Dave, MD and Kristin Riley, MD