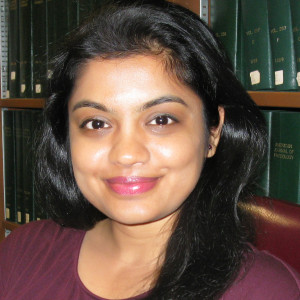 Associate Research Scientist
The John B. Pierce Laboratory
Associate Research Scientist
Cellular & Molecular Physiology
Yale School of Medicine
Laboratory:
Cellular Neurophysiology
E mail:
mkannan@jbpierce.org
Telephone: (203) 562-9901,
EXT. 218
Education
BSc, Biochemistry, University of Madras, Chennai, India, 2005
MSc, Molecular Genetics, University of Leicester, Leicester, UK, 2006
PhD, Neurophysiology, Max Planck Institute of Experimental Medicine, Goettingen, Germany, 2012
Biographical Sketch
Dr. Madhuvanthi Kannan obtained her PhD in 2012 from the lab of Dr. Judith Stegmueller. Her dissertation focused on the role of molecular pathways controlling the structural organization of neuronal axons in the mammalian brain. Here, she uncovered novel players in the cellular degradation and recycling machinery, also known as the ubiquitin-proteasome system. Following her doctoral degree, Dr. Kannan joined the lab of Dr. Michael Higley as a postdoctoral fellow at Yale University. There, she switched to gaining a functional insight into neuronal physiology. Madhu uncovered the mechanisms of inhibitory synapse plasticity in a mouse model for sensory deprivation using electrophysiology and optogenetics. In a second postdoctoral position, in the lab of Dr. Vincent Pieribone, Madhu combined her expertise in molecular biology and electrophysiology to engineer genetically-encoded voltage indicators for functional neural imaging. As an associate research scientist in the Pieribone lab, she hopes to continue developing novel genetic solutions to enhance our understanding of neuronal physiological processes, and eventually apply genetic tools to improve the diagnosis and treatment of neurodevelopmental diseases.
Recent Publications